We moved to Tennessee almost two years ago, and I hadn't made any cookies since I lived in Fort Lauderdale, Florida.
Every time my husband would stop at Food City (once or twice a month) here in Knoxville, he'd buy chocolate chip and M&M cookies from the bakery. I have to admit, they are delicious! But every time, I would say to myself, my cookies are way better!
You see, when I made cookies in Florida, they came out great. Nice and plump, not flat! Granted, some cookies are meant to be flat or thin, but not my Nestle Tollhouse Chocolate Chip Cookies. They came out perfect. Nice and plump, and oh, so delicious!

So, over the Christmas holiday I decided to make chocolate chip and M&M cookies. Using the best tollhouse chocolate chip cookie recipe from Nestles, I made a couple of big batches of cookies, adding M&Ms to half of them. My cookies came out flat! What the heck??? That never happened before. They look and taste okay but they are too thin and will fall apart.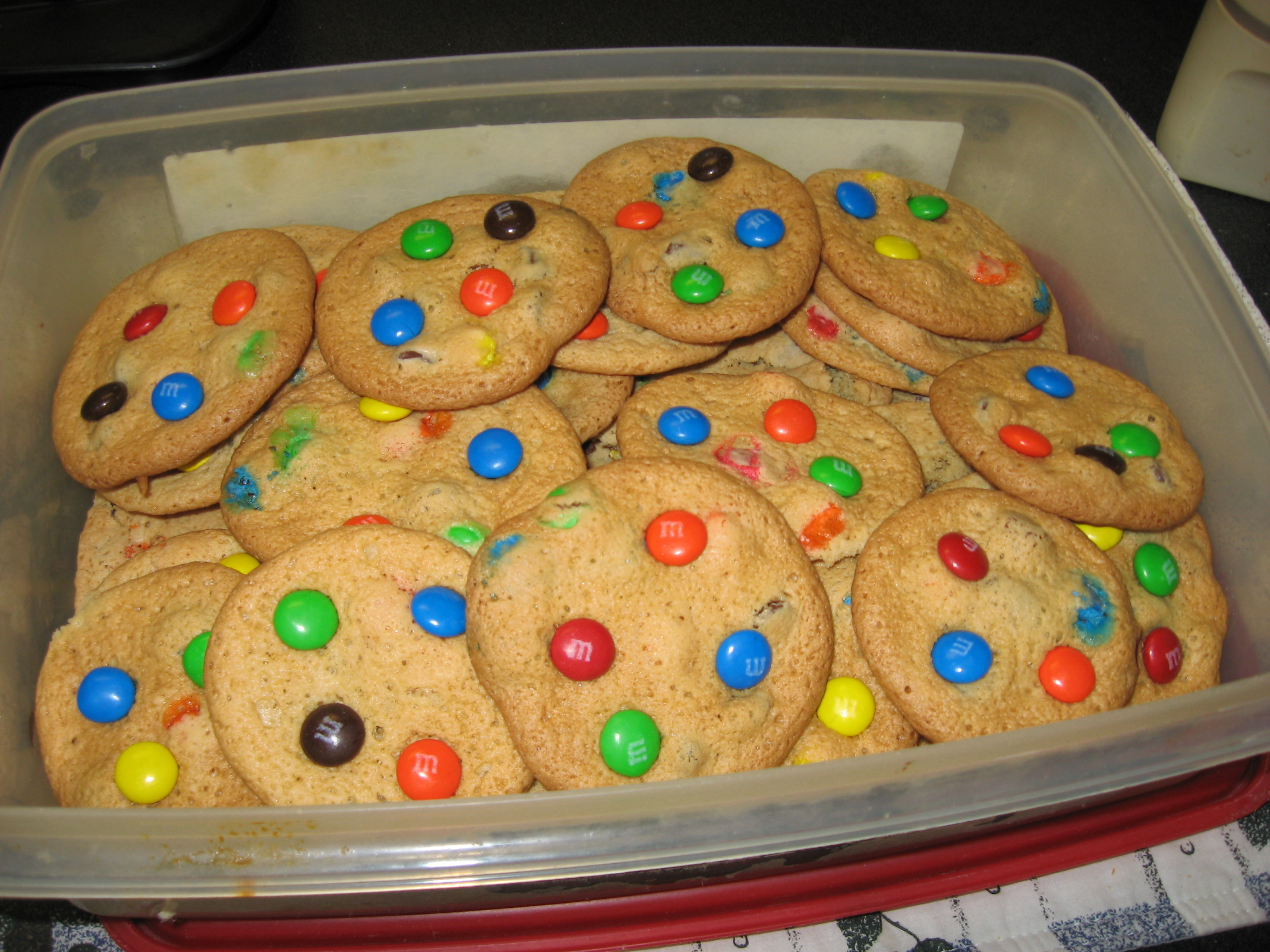 Tasty but flat
So, I did some research and found several solutions to making cookies more plump. Some said to use light cookie sheets rather than the dark non-stick kind. Others suggested using unsalted butter instead of margarine, or Crisco instead of butter. Some replied that they always refrigerate the dough so it's cold when they go in the oven, and someone mentioned the different altitudes. That makes sense, I'm at a higher elevation than I was in South Florida. Someone else suggested that if the cookies rise too much they will burst and then flatten.

I've been doing a lot of oven baking and was having trouble with my ugly dark non-stick pans. I've gone through so many of them and they all do the same thing. They stain, lose their non-stickyness, and won't come out clean. Plus, they're thin and warp after being put in the oven. But I have to say, my cookies still came out good.

Prior to this, I had already done some research on finding the perfect baking sheet, Chicago Metallic Commercial II Traditional Uncoated 16-3/4 by 12-Inch Jelly-Roll Pan, Set of 2. I love these baking sheets. They are heavy-duty, don't warp, and clean up nicely. I use parchment paper and the food doesn't stick. I only use them for my oven baked Buffalo wings, baked chicken, fish fillets, etc. Anyway, I discuss the new baking sheets in more detail at Oven Baked Buffalo Chicken Wings.
Back in Fort Lauderdale I always used the dark non-stick cookie sheets, I used margarine instead of butter, and my cookies always came out great.
Now, even though the baking sheets make a big difference, they still didn't solve my problem. My cookies browned beautifully but they were still flat!
This was over a period of two or three days. I chilled the dough, tried the new baking sheets, I tried lowering the temperature, raising the temperature, and nothing worked.
So, back to the grocery store for more chocolate chips and I picked up some unsalted butter.
So, it was as simple as that. Real butter! I don't know why the same margarine (Country Crock) that I used in Florida produced flat cookies here in Knoxville, but the butter solved the problem. Just about anyone will tell you that butter tastes so much better than margarine, and I will use butter if I have it on hand. I agree that with certain things like fresh baked bread or corn-on-the-cob, it is so much better with sweet cream salted butter…yum! But, that's salted butter. When baking, you should use unsalted butter because the salt could ruin the recipe. We don't really know how much salt is in a stick of butter. In my opinion, these cookies taste just as good with butter as they did with margarine. You really don't taste the butter with all of the chocolate chips, but for some reason they rise much better and are thicker and plumper with butter. I guess it has something to do with the consistency of the margarine. It may be too soft and causes the cookie dough to spread out on the cookie sheet.
Added: Make sure your eggs and baking soda are fresh, as stale eggs or baking soda may also be the cause of flat cookies.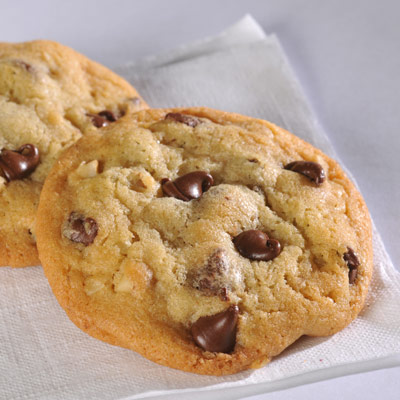 The recipe is on the package of Nestle Tollhouse Chocolate Chip Cookies, but here it is in case you use your own chocolate chips or you can substitute M&Ms for chocolate chips.

Ingredients:
2 1/4 cups all-purpose flour
1 teaspoon baking soda (make sure it is fresh, not sitting in your cabinet for months)
1 teaspoon salt
1 cup (2 sticks) butter, softened
3/4 cup granulated sugar
3/4 cup packed brown sugar
1 teaspoon vanilla extract
2 large eggs (make sure eggs are fresh)
2 cups (12-oz. pkg.) NESTLÉ® TOLL HOUSE® Semi-Sweet Chocolate Morsels or regular size M&Ms
1 cup chopped nuts (optional)
Directions:
Preheat oven to 375 degrees F.
Combine flour, baking soda and salt in small bowl. Beat butter, granulated sugar, brown sugar and vanilla extract in large mixer bowl until creamy. Add eggs, one at a time, beating well after each addition. Gradually beat in flour mixture. Stir in morsels and nuts, or half of the M&Ms instead. Drop by rounded tablespoon onto ungreased baking sheets.
BAKE for 9 to 11 minutes or until golden brown. When they're done, I press some of the remaining M&Ms on top of each cookie while they're still hot. Cool on baking sheets for 2 minutes; remove to wire racks to cool completely.
Also, see my post, Perfect Chocolate Chip Cookies
Bon appétit!

---