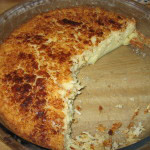 Have you ever made a pie without a pie crust? Well, here's one that came out great!
I didn't know what to think when I first saw this recipe, but it looked delicious. I thought it would be more like a coconut custard or pudding-like texture. But I decided to give it a try. This turned out great! Serve warm or cold with your choice of whipped topping. I use Cool Whip. It is firm, and slices just like a pie. I was very impressed. It was such a hit, three pieces were gone before I could take a picture! 🙂
There were several recipes to choose from online. One used 1 cup of coconut, another used 1-1/2 cups. One recipe baked it for 45 minutes, another for 60. One used flour, another used Bisquick. I suppose any of these would work, but I did the following and it came out perfect!
Ingredients
4 eggs
2 cups milk
1 teaspoon vanilla extract
8 Tablespoon butter, softened (one stick)
3/4 cup sugar
1/2 cup Bisquick (or all purpose flour)
1-1/2 cups shredded coconut
1/4 teaspoon ground nutmeg
Directions:
Don't throw all of the ingredients in at once. I learned that lesson the hard way. I almost killed my blender doing this. After putting all of the ingredients in at one time, I pushed the button and it looked like it was mixing everything, but after a few seconds smoke started coming out of it and it smelled like burnt rubber…Ewww! It's a good thing I didn't walk away from it. My husband grabbed the base of the blender and carried it out to the porch, for fear that it would blow up or something. I continued to stir the ingredients in the pitcher and it looked like it was well blended. So, if I were you, I'd gradually blend the liquids first and then add the dry ingredients a little bit at a time until it was well blended. I tested the blender later on and it seemed to work okay.
Pour into a greased and floured 9″ pie plate. Sprinkle nutmeg on top. Let sit for 5 minutes. I don't know why it has to sit, but since I forgot to preheat my oven I let the pie sit for more like 10 minutes.
Bake at 350 degrees for 45 minutes. Serve warm with a a little cream and a dollop of your favorite topping. That's it, delish!
Bon appétit!
Family Rating:
---