Do you know how many calories and carbohydrates are in a cup of rice? First of all, the box of Minute Rice shows that one serving is 1/2 cup. A 1/2 cup of Minute Rice has 170 calories and 38 grams of carbohydrates (Yikes!) Who eats 1/2 cup of rice? Usually, it depends on whether you eat rice as a full meal or as a side dish. Not me, I can eat pork fried rice by the quart. Let's see, a quart of rice is 1360 calories, or 304 grams of carbohydrates. Good grief, 304 grams of carbs is more than six days worth of carbohydrates for me! No wonder I got myself into this predicament. Oh, well, it just reinforces my decision to change the way I eat.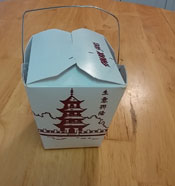 .
When I eat pork fried rice it reminds me of my childhood Summers at the amusement park, where they had this fabulous little walk-up Chinese Food stand. Anyway, I blogged a little about that here.,
Again, I digress.
So, onward and upward. I am trying to make healthier choices when deciding what to eat, but at the same time I don't want to feel like I'm missing out on my favorite foods, like pork fried rice. In this case, the healthy choice is using cauliflower instead of rice. I'm not a big cauliflower eater. I've had it roasted with olive oil, and I like it raw with a dip, but that's about it. The next thing I want to try is cauliflower mashed potatoes.
I'm going to show you the few changes that I made to my Pork Fried Rice recipe. Please excuse me for copying the main recipe because I've only made a few changes.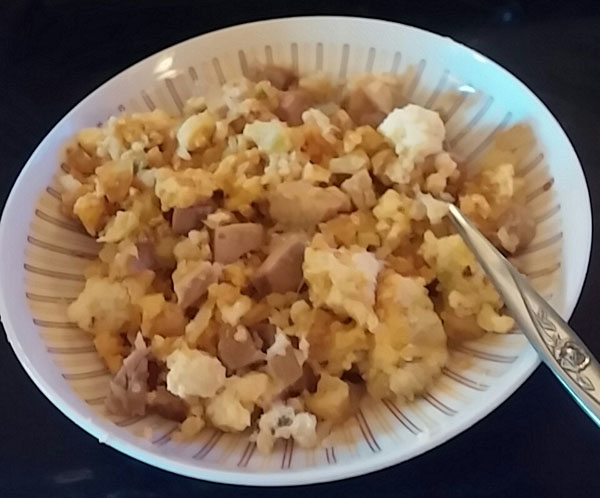 I usually make this when I have an extra pork chop, but it would also be good with chicken, beef or shrimp. You can also add whatever vegetables you choose, such as broccoli, shredded carrots, or peppers. I usually only add small peas. In this case, I left out the peas because they are not carb-friendly. The combined flavors from the garlic, green onions, ginger, and the addition of sesame oil, rice vinegar and soy sauce, makes it oh, so good!
Ingredients:
3-4 Tbsp vegetable oil
A few drops of sesame oil (optional)
1 pork chop, cooked or uncooked, and cut into 1/4″ pieces
1/2 onion, chopped
1 clove garlic, minced or grated
1-1/2 tsp minced fresh ginger (I use a fine grater)
3-4 green onions, chopped (white and light green parts)
1/2 large head or 1 small head of cauliflower (comes out to about 1-1/2 to 2 cups when grated)
Your choice of vegetables (broccoli, carrots, peas) (Optional)
2 eggs, scrambled
2 Tbsp soy sauce
1 Tbsp rice vinegar
Directions:
First, remove leaves and pull apart florets from half of the head of cauliflower. Add to colander and rinse. I then cut those in smaller chunks to fit in my food chopper. Or, you can use a box grater to grate the cauliflower. I was surpised at how well the chopper (or food processor) grated the cauliflower. It was so easy, and it looks just like rice. You don't even have to cook it!
In a wok or large skillet, over medium high heat, add 2 Tbsp of vegetable oil and sesame oil. Mmmm! I love the smell of sesame oil!
If uncooked, add pork and cook 5-6 minutes until cooked through. Remove from skillet and set aside.
Lower heat to medium, heat up a little more vegetable oil, add onion and saute for about five minutes, until translucent. Then, add garlic, ginger, and green onions. Cook about 1 minute.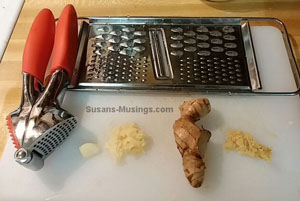 I store my ginger in the freezer and grate as needed
Add cauliflower rice to skillet and turn heat to medium-high. Let the rice get crispy, about 2 minutes. This is when you add your vegetables; broccoli would be good, and stir.
Move rice to the side and add eggs, scrambling them and working into the rice mixture as you go. You might need to add a little more oil.
Add soy sauce, rice vinegar, and cooked pork. Toss together and serve.
Check out my posts, My Journey to a Healthier Low Carb Way of Life, and Cauliflower Mac & Cheese.
Printable recipe without images:
---