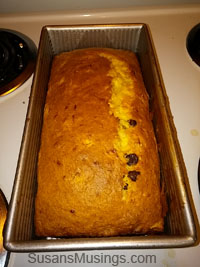 I love banana bread, but I could never make a good one. They always came out too dense, if you know what I mean. Too heavy and well, thick. Until I found this recipe. This is more like banana cake, I guess, but I make it in a bread loaf pan and it passes for a very nice loaf of banana bread.
You only need three ingredients, yellow cake mix, eggs, and over-ripe bananas. That's the basic recipe for a great tasting banana bread, and you can add additional ingredients if you'd like. For example, I added a teaspoon of vanilla, and a handful of walnuts and chocolate chips. I sliced and served it warm with a pat of butter…yum, it's so good!
Ingredients:
Box of yellow cake mix (I used Betty Crocker)
2 eggs
3-4 over-ripe bananas
Directions:
Preheat oven to 350 degrees.
Mash up several bananas in large bowl.
Add remaining ingredients and mix well.
Grease two small or one large loaf pan (I used my 10″ x 5″ loaf pan).
Bake at 350 for 45 to 50 minutes, until golden brown.
Let sit for 10 minutes and then turn out onto cooling rack.
Optional Additions:
You can also add all kinds of things if you like, such as chocolate chips, pecans, walnuts, blueberries, apples, etc.
Printable recipe without images:
---