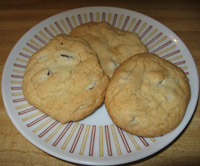 I found a recipe for chocolate chip cookies that hasn't failed me, yet. They come out perfectly every time. Nice and crispy around the edges, soft and plump in the center. Added: Make sure all of your ingredients (especially baking soda and eggs) are fresh.
Ingredients:
1 cup salted butter, softened (don't use margarine or they might come out flat)
1 cup white sugar
1 cup brown sugar
2 eggs
2 tsp vanilla extract
3 cups All-Purpose Flour
1/2 tsp salt
1 tsp baking soda (make sure it is fresh, not sitting in your cabinet for months)
2 tsp hot water
2 cups (12 oz. package) semi-sweet chocolate chips

Directions:
Preheat oven to 350 degrees F (175 degrees C).
Cream together the butter, white sugar, and brown sugar until smooth.
Beat in the eggs one at a time, then stir in the vanilla.
Dissolve baking soda in hot water. Add to batter along with salt, stir.
Stir in flour and chocolate chips. Drop by large spoonfuls onto ungreased pans.
Bake for about 10-12 minutes, or until edges are nicely browned.
Yield: 3-1/2 to 4-1/2 dozen, depending on size. My last batch came out big, about 3″ in diameter and yielded 3-1/2 dozen.
Bon appétit!
---