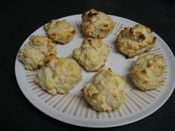 I'm not a baker. Very rarely do I make a cake from scratch, and I could never make a pie crust. I'm a Duncan Hines or Betty Crocker kind of gal, and I buy my pie crusts from the freezer section of the grocery store. When I bake, I never have the right ingredients on hand. I either use the wrong kind of shortening or margarine instead of butter. I don't knead enough or I knead too much. I just don't have the patience to go through all of the steps it takes to make a nice loaf of bread or pie crust.
Today, I was in the mood for my sausage gravy and biscuits. I bought the sausage, but I forgot to get the biscuits. I usually buy Pillsbury Grands refrigerated biscuits.
Now, I could have just made toast but I thought I'd try to make biscuits. Really, it can't be that difficult. I have flour, and that's all it really takes to make biscuits, right?
I grabbed the self-rising flour that I use to make deep-fried coconut shrimp. Google Outback coconut shrimp and you'll find the copycat recipe…it's sooooo good! Oooh! Tomorrow is fish and seafood night, maybe I'll make some. Anyway, I digress. The self-rising flour makes the coconut shrimp come out nice and puffy, so, I figured that would make nice and puffy biscuits, right? There was a recipe on the back for biscuits, so I figured I was on the right track.
The ingredients consisted of cooking spray, flour, Crisco shortening (you know, the kind that looks like lard and comes in a can?), and buttermilk. Oh, yeah, that's why they are called buttermilk biscuits. I hate buttermilk, so I would never buy it. That's okay, I'll just make a few adjustments. I'll use canola oil instead of shortening, and milk instead of buttermilk.
My Ingredients:
Cooking spray
2 cups self-rising flour
1/4 cup canola oil
2/3-3/4 cups of milk
Directions:
Preheat oven to 500 degrees.
In a large bowl mix flour and oil. Stir until the flour starts to form small balls. Add milk a little at a time. I used 3/4 cup and it was a bit moist. You're supposed to place the dough on a floured surface, knead 2-3 times, roll them out with a rolling pin, and cut with 2-inch cookie cutters. Uh-uh, that's way too much work. I just mixed it in the bowl with my hands, folding it over a couple of times. I sprayed a pizza pan with cooking spray (I had just used the pan last night and it was handy), and then dropped the dough just like I do my chocolate chip cookies, about 2-inches apart. It yielded 10 good sized biscuits.
Bake for 8-10 minutes.
That's all there was to it. I would probably only make these when I plan on smothering them with sausage gravy, but they're good in a pinch and better than toast.
For my recipe for sausage gravy with biscuits – click here.
Bon appétit!
~~~~~
The following two tabs change content below.
I created this blog just so I could write about anything and everything that comes to mind, whatever I feel like saying, whenever I feel like posting. This is not a Christian-only site or a political board filled with propaganda and rhetoric. I want my blog to be fun and interesting, offering people helpful tips and information, as well as thoughtful and entertaining content. Thanks for visiting!