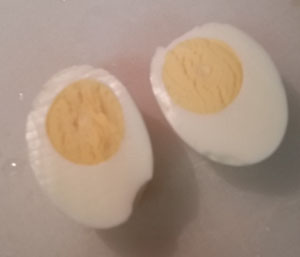 Believe it or not, boiling eggs is pretty easy. The trick, of course, is to not overcook them.
The perfect yolk is bright yellow, not gooey in the center or dark around the edges.
I used to boil eggs for 10-12 minutes, and they usually came out okay. But they were usually a little over done. You can tell an overcooked egg by the color of the yolk. It should be pure yellow, without any dark color. Sometimes they will show a dark ring around the yolk. Most of the yolk is yellow with a little bit of dark yolk around the edges. This isn't too bad.
Boiled Method:
I finally found the perfect way to boil eggs, and they come out great every time!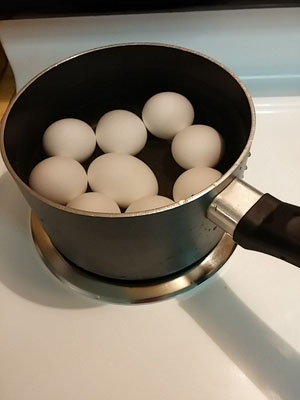 Place eggs in a large sauce pan. Cover with cold water by about one inch. The pan should be high enough to leave enough room at the top for a rolling boil.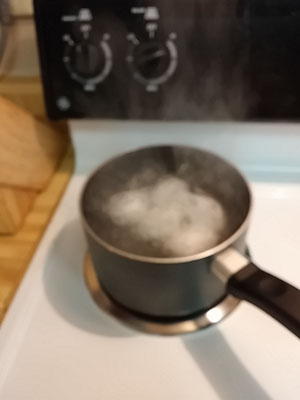 On high heat, bring pot to a rolling boil.
Remove from heat, cover with lid and wait 12 minutes. That's it!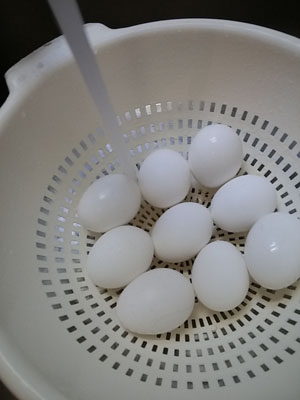 Place hard-boiled eggs in colander and rinse with cold water. This will stop the eggs from cooking any further. However, I have been known to let the eggs cool in the pot and they still came out fine.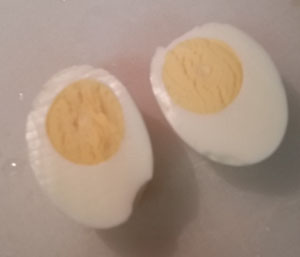 Eggs are ready to peel and eat, or dry them off and place back in the container in the fridge.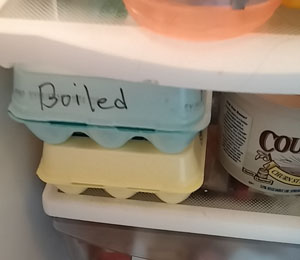 I mark my egg container with a sharpie so I know which ones are hard-boiled.
---
Oven Baked Method:
Another method to cooking eggs is in the oven. I tried it once. As you can see in the photos below, the eggs got brown spots on them. I guess I cooked them a little too long. They still came out okay, but it takes longer in the oven and the stove-top method is easy enough. It's a good method if you want to cook a dozen eggs or more at a time. In case you would like to try this method: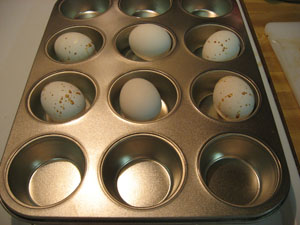 Preheat oven to 325. Place eggs in a muffin pan. Bake for 30 minutes. After 30 minutes, remove from pan and place in a bowl of ice water for about 10 minutes to stop the cooking.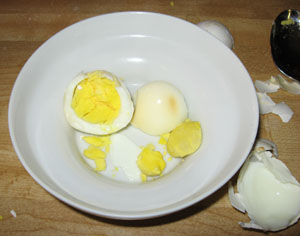 I used a larger muffin pan, but the mini muffin pans shown below would work better.
---
60-Second Microwave Method:
Another quick method to cooking a hard-boiled egg (I know it's not boiled, but hard egg doesn't sound right) is in the microwave, but you have to be very careful. Here's how I do it: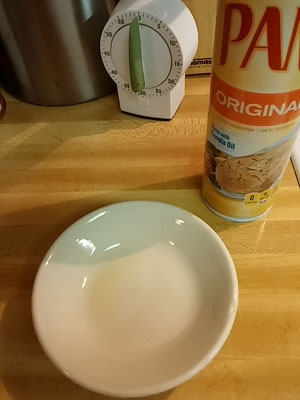 Spray small dish with Pam or other cooking spray.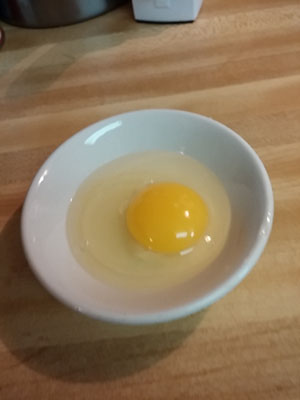 Crack open an egg into the dish.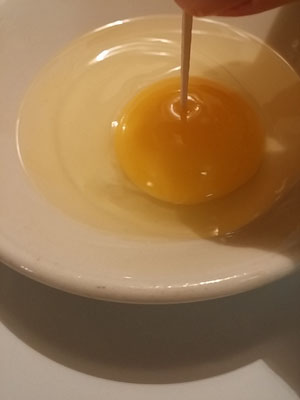 Poke a hole in the yolk with a toothpick.
You don't want to see what happens if you don't do this!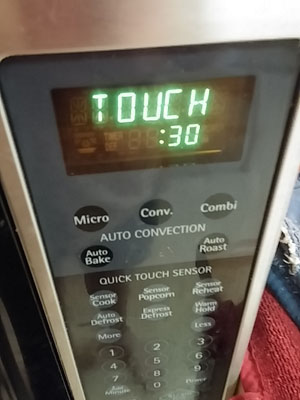 Set microwave timer on high for 30 seconds.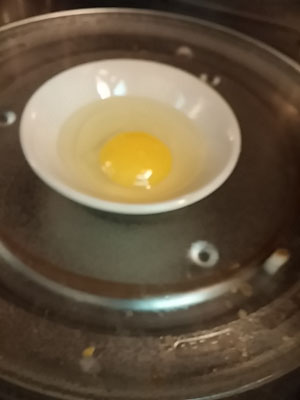 Microwave on high for 30 seconds.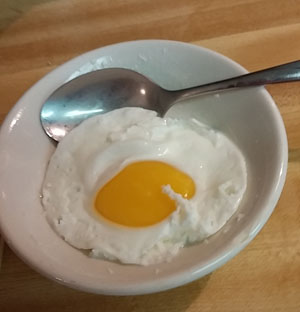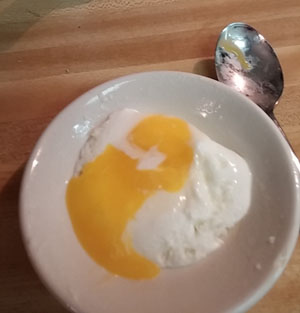 Remove from microwave and with a spoon, flip the egg over to the other side.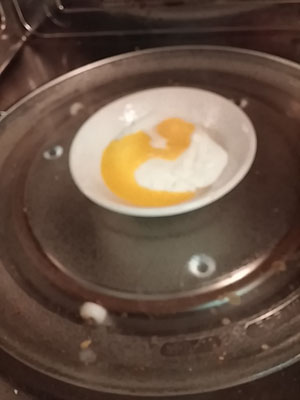 Place back in the microwave for another 30 seconds.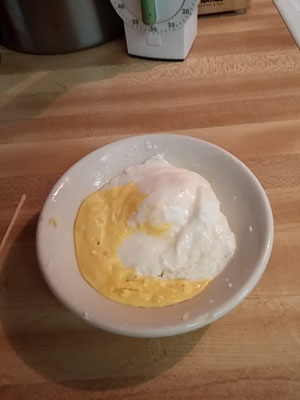 You will hear a popping sound while egg cooks, but that is normal and you shouldn't find an explosive mess when you open the microwave. *cross fingers*
That's it! Don't try to cook the egg for a full 60 seconds without flipping it over. You won't like the results.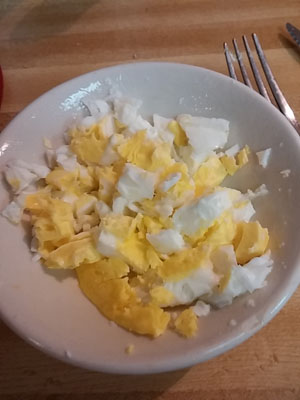 I usually do it this way when I'm in a hurry and need an egg for a quick salad or sandwich.
Bon appétit!
---
The following two tabs change content below.
I created this blog just so I could write about anything and everything that comes to mind, whatever I feel like saying, whenever I feel like posting. This is not a Christian-only site or a political board filled with propaganda and rhetoric. I want my blog to be fun and interesting, offering people helpful tips and information, as well as thoughtful and entertaining content. Thanks for visiting!