I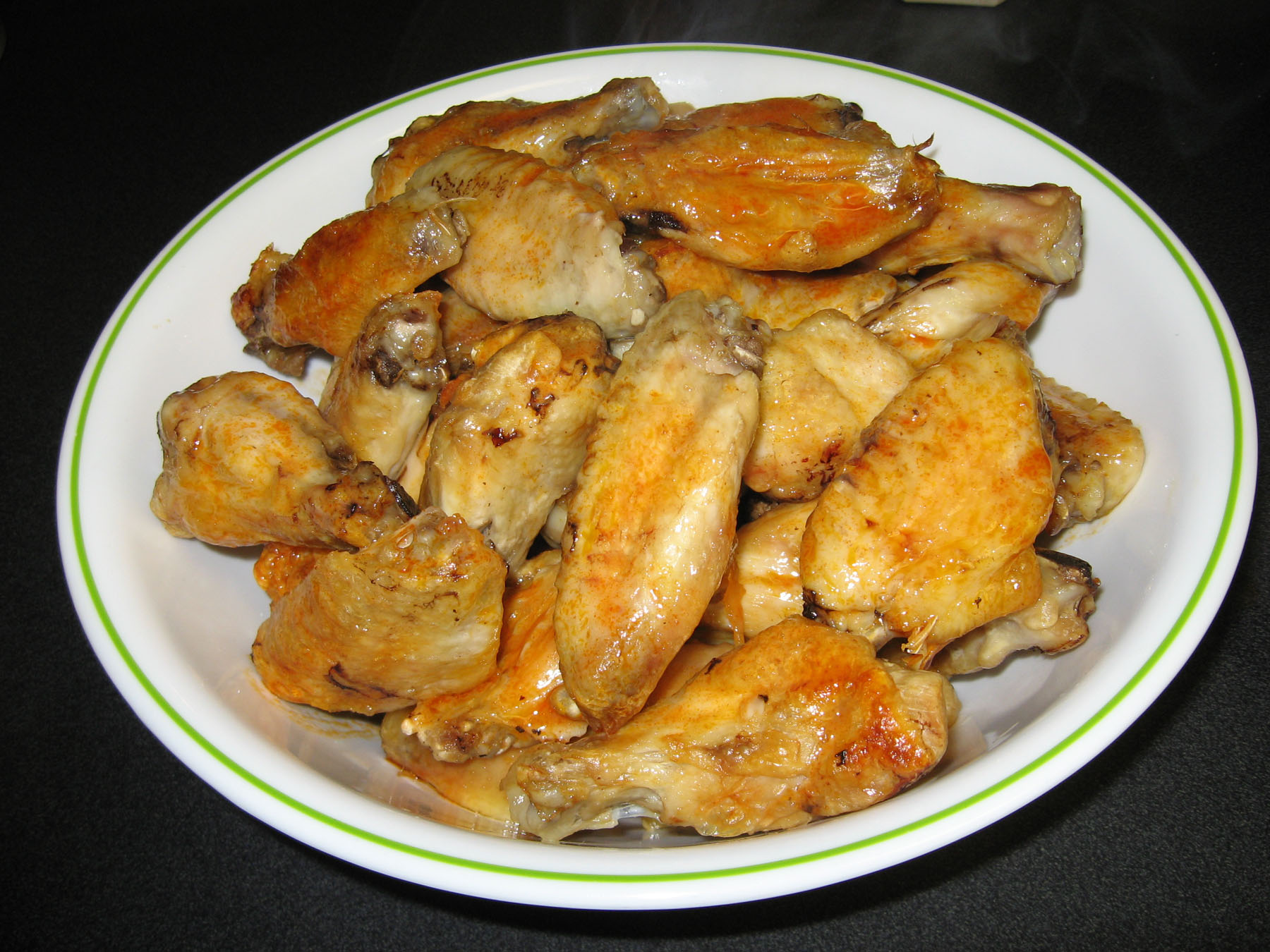 know there are lots and lots of chicken wing recipes on the Net, but most of them, in my opinion, call for way too many ingredients. I'm not a fan of making things from scratch if one jar of sauce will do the trick instead of a dozen or so ingredients. So, following is my recipe for medium hot Buffalo chicken wings, and they are so good!
* I have updated this recipe by adding a ginger-soy glaze to use on half of the wings. Also, I changed the cooking method slightly by tossing the wings with oil, salt and pepper, and placing on a wire rack, so the wings come out more crispy. (2/4/13)
Ingredients:
Wings:
2-5 lbs frozen chicken wing flats (25-60 wings)
2 tablespoons vegetable oil
1 tablespoon kosher salt
1/2 teaspoon freshly ground black pepper
Buffalo Wing Sauce:
1/2 cup Crystal Louisiana's Pure Hot Sauce
1/2 cup margarine or butter
For variety, try this Ginger-Soy Glaze:
1/4 cup honey
2 tablespoons soy sauce
3 large garlic cloves, crushed
1 2×1″ piece of ginger, peeled, sliced
1/4 cup water
Optional:
Celery sticks
Bleu cheese dressing
I usually buy the 5-lb bag of frozen chicken wing flats (at Kroger), which yields approximately 50-60 wings, depending on the size of the wings. I split the bag in half and freeze the remaining wings for another night. Just count out what you need (6-10 wings per person) and freeze the rest.
Note: We prefer the flats but, lately, Kroger's only been selling the 4-lb bag of mixed wings (flats and drumettes), so I just cook up the whole bag for four of us (approx. 24 wings per package). There's still plenty of hot sauce.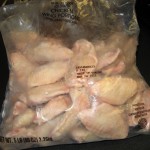 Directions:
Completely thaw wings and pat them dry. Preheat oven to 400 degrees. No flour,
no mess!
Prepare Buffalo Wing Sauce:
Mix butter and hot sauce in small sauce pan, stir and let sit in cool spot to thicken while the wings bake. Can be chilled for up to a week. Rewarm before using.
Prepare Ginger-Soy Glaze:
Bring all ingredients to a boil in a small saucepan, stirring to dissolve honey. Reduce heat to low, simmer, 7 to 8 minutes, stirring occasionally, until reduced to 1/4 cup. Strain into a medium bowl. Let sit for 15 minutes to thicken slightly. Put aside. Can be chilled for up to 5 days. Rewarm before using.
Prepare Wings:
In a bowl, toss chicken wings with oil, salt and pepper. Line baking sheet with foil (makes cleanup easier) and place a wire rack on top. The rack allows for circulation and the wings don't stick to the pan. It usually takes two pans if baking the whole bag, but I just bought a baking sheet* that is 11″ x 17″ and holds approx. 45 good size wings. Spread wings in single layer on rack.
If you don't have a wire rack, coat your foil-lined sheet with non-stick spray. I find that parchment paper helps keep wings from sticking to the pan. Space more so the heat can circulate to get them crispy. Bake for about 30 minutes and turn. Bake another 15 to 30 minutes, or until brown and crispy.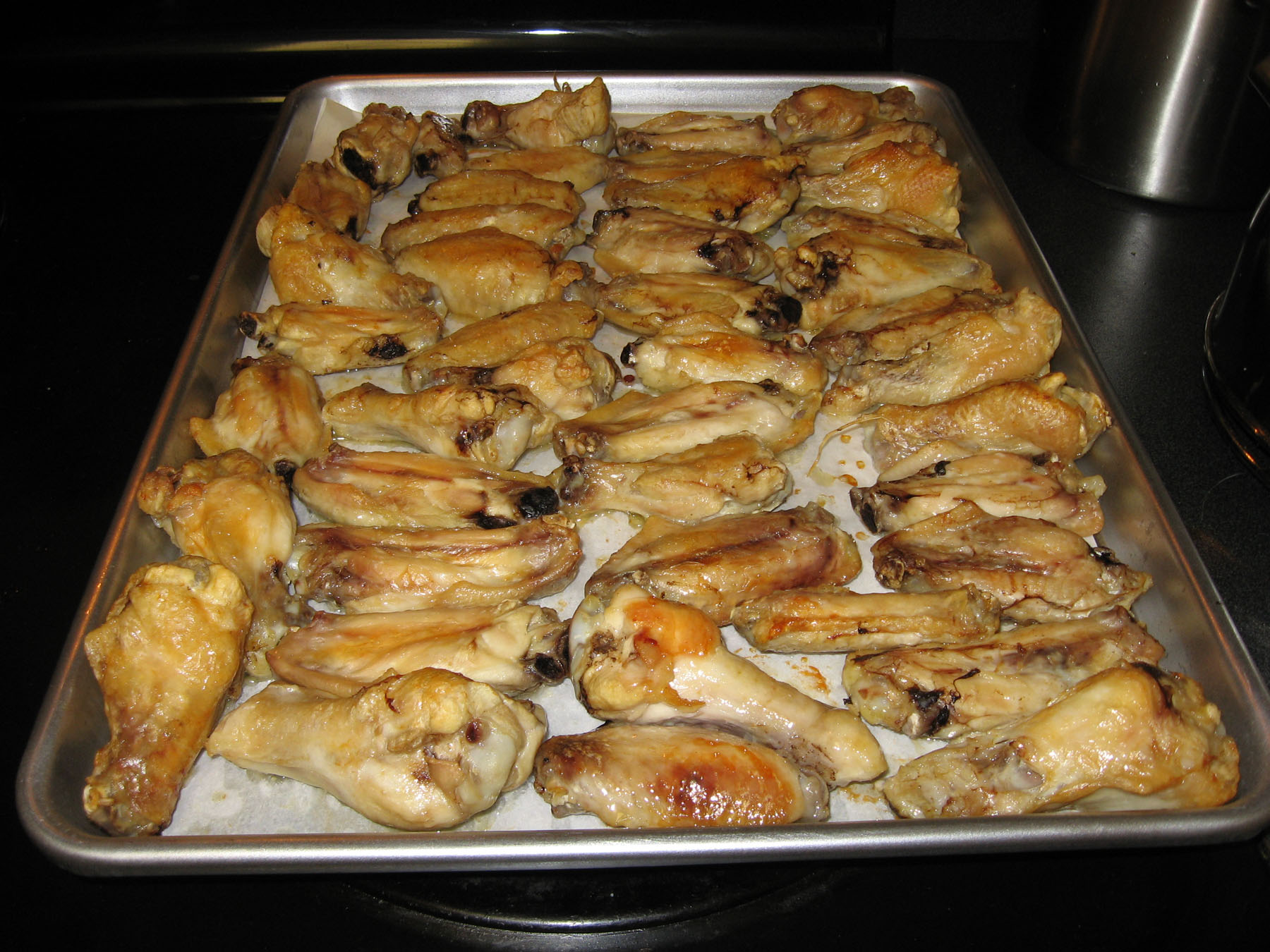 I love my new baking sheets!
In large bowl, toss 1/2 the wings in ginger-soy sauce, coat evenly. Place back on rack and bake until glaze is glossy and lightly caramelized, 8-10 minutes.
In another large bowl, toss the remaining 1/2 of the wings in Buffalo sauce. Place in 325 degree oven for 15 minutes.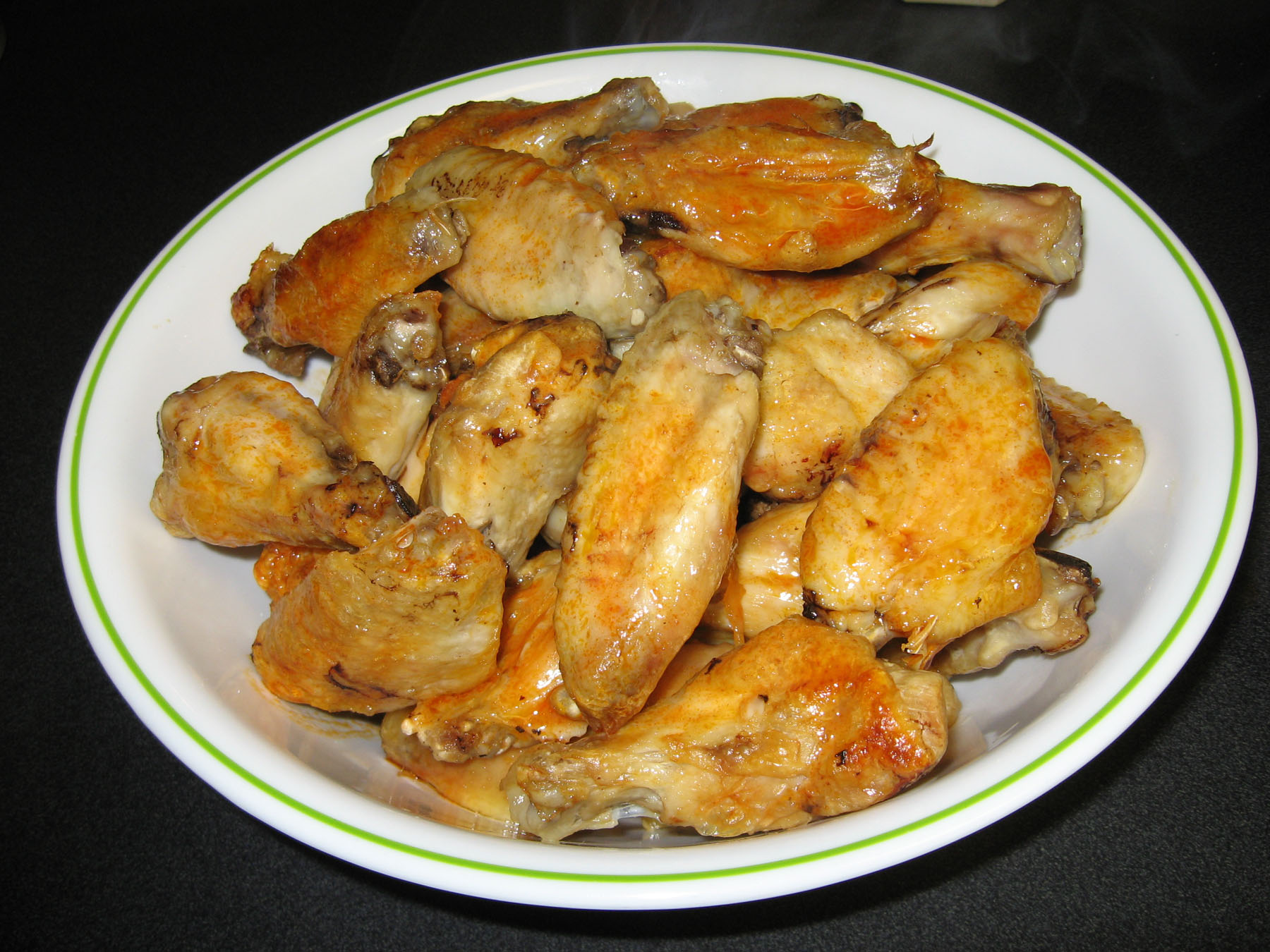 Serve with celery sticks and bleu cheese dressing. These are great served with mac & cheese or Ore-Ida Extra Crispy Fast Food Fries. These fries taste like your favorite fast food restaurant fries.
If wings are too spicy, dip in bleu cheese dressing for a nice cool down. I love spicy wings but I'm such a wimp that I sometimes sip milk with my wings. It's the quickest way for me to take away the heat. Another great cool down is sour cream. I love sour cream with spicy nachos. My husband says eating bread works, too.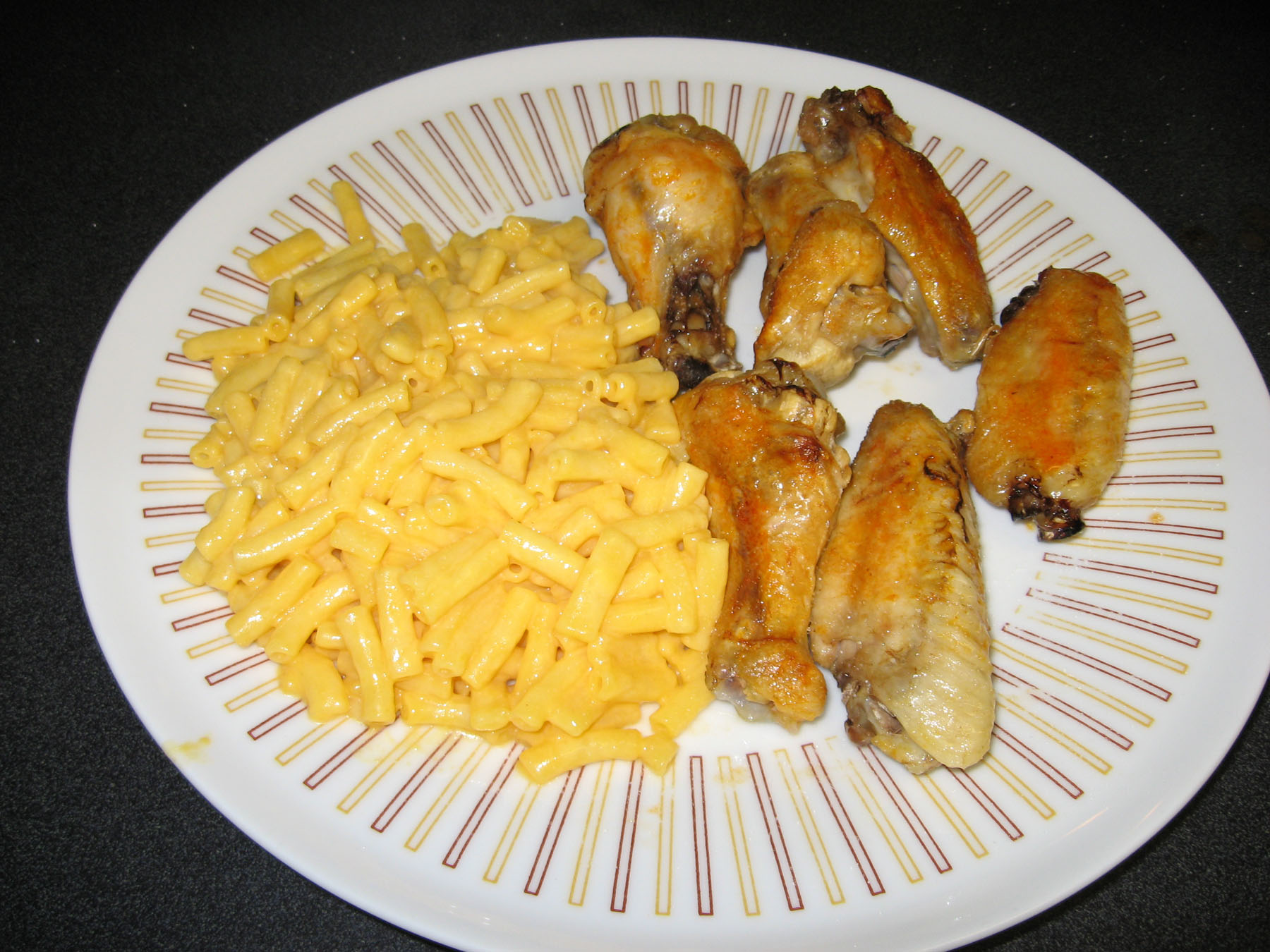 If you like it mild, hardly taste the heat and more buttery, use 1/4 cup of Crystal Hot Sauce with 1/2 cup of margarine. If you use Louisiana Hot Sauce brand, you might want to start

out with less because it's spicier than Crystal. If you picked up a bottle of Frank's Hot sauce, wheeeeee, I hope you like it HOT!
Okay, I just found this on Amazon and thought it would be perfect for those that really like to spice things up. It's called Gourmet 100% Carolina Reaper Pepper Powder – Click Here!, and in November 2013, the Carolina Reaper was certified by the Guinness Book of World Records as the hottest pepper in the world! Don't touch this with your hands, use a spoon, or wear gloves – and, most important – USE AT YOUR OWN RISK! 🙂
*I found that the non-stick baking sheets don't fare too well at high temperatures. My favorite pan is my stainless steel roasting pan, but it's not big enough. So I went in search of a decent baking sheet that was not non-stick. I found a really nice pair of baking sheets on Amazon that got really good reviews. They are the Chicago Metallic Commercial II Traditional Uncoated 16-3/4 by 12-Inch Jelly-Roll Pan, Set of 2. I love these baking sheets. One of them is pictured above. They are heavy-duty, don't warp, and clean up nicely. I usually use parchment paper for chicken wings because they're smaller and more delicate than larger pieces of chicken.
These baking sheets are still sturdy, and I use them with foil or parchment paper. But, they're not so attractive and shiny, anymore. So, after two-and-a-half years, I just bought another set. They are still my favorite baking sheets, and they are large enough to hold a few dozen wings, or a dozen of my Perfect Chocolate Chip Cookies….yum!
Silpats/silicone liners are great, but for cooking chicken, they are too greasy and messy to clean. Parchment paper works better than non-stick foil. They have pre-cut sheets or rolls.
If you prefer to cut up your own chicken wings, you could buy a nice poultry/bone cutter. I love the one that I have, OXO Good Grips Professional Poultry Shears. It has a serrated edge and grips onto the bone and cuts through easily.
Please come back and comment if you try this recipe, and all suggestions are welcome!
Bon appétit!
Family Rating:
---