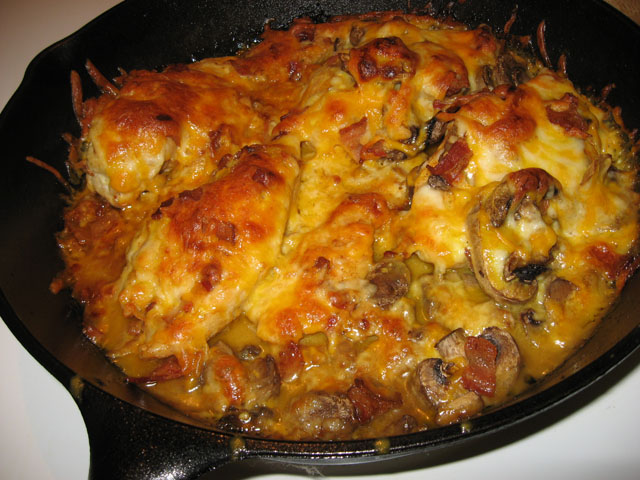 I make this all the time. It's so easy, and can be adjusted for each family member. For example, only two of us like mushrooms, so I leave the mushrooms off of two chicken breasts. I make this in my 12″ cast-iron skillet so that it goes from stove-top directly to the oven.
Printable recipe without images:
Outback Steakhouse Alice Springs Chicken Recipe
Ingredients:
4 boneless skinless chicken breasts, pounded to 1/2 inch thickness
Lowry's Seasoning Salt
6 bacon slices
1/4 cup regular mustard
1/3 cup honey
2 Tbsp. Mayonnaise
2 teaspoons dried onion flakes
1 cup sliced fresh mushrooms
2 cup shredded Colby/Jack cheese
Directions:
First, Sprinkle and rub the chicken breasts with Lowry's seasoning salt. Cover and refrigerate for 30 minutes.
While the chicken is in the refrigerator cook bacon in a large skillet until crisp (I used 12″ cast-iron skillet). Remove bacon and set aside. ***Do not discard grease. ***
Sauté chicken in the bacon grease for 3 to 5 minutes per side, or until browned. Place chicken in a 9″ × 13″ casserole dish or pan (I kept chicken in cast-iron skillet.
To make the Honey Mustard: In a small bowl, mix the mustard, honey, mayonnaise and dried onion flakes.
Spread some of the Honey Mustard over each piece of chicken, then layer with mushrooms, crumbled bacon, and shredded cheese.
Bake in a 350° oven for 30 minutes, or until cheese is melted and chicken is done.
Serve with the leftover Honey Mustard Sauce.
This is a great recipe for a cast-iron skillet – from stove-top to oven. Otherwise, use a 9″ x 13″ pan or casserole dish. In fact, I just purchased a new 9″ x 13″ cake/brownie pan made by USA Pans (this makes the best brownies). I love their pans because they are sturdy, non-stick, provide even cooking, don't warp, and are made in the USA. So far, I have the 13″ x 18″ sheet pan, 10″ x 5″ loaf pan, 6″ x 15″ New England Style Hot Dog Pan, and the 9″ x 13″ cake/brownie pan.
See my post titled My kitchen gadgets, utensils and bakeware recommendations
---
The following two tabs change content below.
I created this blog just so I could write about anything and everything that comes to mind, whatever I feel like saying, whenever I feel like posting. This is not a Christian-only site or a political board filled with propaganda and rhetoric. I want my blog to be fun and interesting, offering people helpful tips and information, as well as thoughtful and entertaining content. Thanks for visiting!