I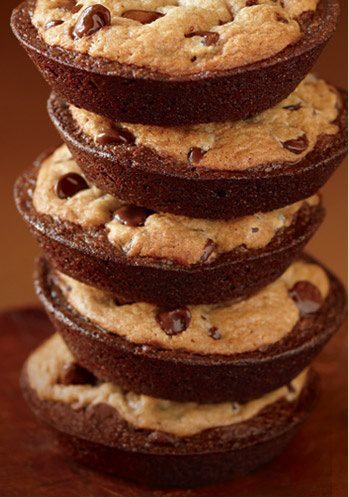 found these Brookies on Frugal-Freebies.com's Facebook page. This is what they're supposed to look like. Good luck with that! If you decide to make them, please upload a photo or link, I'd love to see how they came out!
This was my recipe for Brookies:
Step 1 – Make Cookie Dough
The recipe is on the package of Nestle Tollhouse Chocolate Chip Cookies, but here it is in case you use your own chocolate chips or you can substitute M&Ms for chocolate chips.
Ingredients:
2 1/4 cups all-purpose flour
1 teaspoon baking soda
1 teaspoon salt
1 cup (2 sticks) butter, softened (can use grater to shred hard butter)
3/4 cup granulated sugar
3/4 cup packed brown sugar
1 teaspoon vanilla extract
2 large eggs
2 cups (12-oz. pkg.) NESTLÉ® TOLL HOUSE® Semi-Sweet Chocolate Morsels or regular size M&Ms
1 cup chopped nuts (optional)
Directions:
Combine flour, baking soda and salt in small bowl. Beat butter, granulated sugar, brown sugar and vanilla extract in large mixer bowl until creamy. Add eggs, one at a time, beating well after each addition. Gradually beat in flour mixture. Stir in morsels and nuts. Chill bowl in refrigerator.
Step 2 – Make Brownie Mix
Ingredients
Box of brownie mix (I used Ghirardelli Chocolate Supreme Brownie Mix (with chocolate syrup)
1/4 C water
1/3 C vegetable oil
1 egg
* Note: Different brownie mixes may call for different measurement and/or more eggs.
Directions:
Combine ingredients and stir approximately 50 strokes.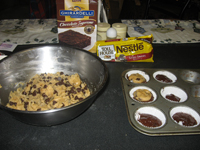 I used a muffin pan for 12 cupcakes and inserted a baking cup in each one. This gives you soft sided brownies. Fill each cupcake tin halfway. Mine came out too big, so if you want these to look more like cookie size, fill each cupcake tin one-quarter of the way with brownie batter. . Chill cupcake pan in refrigerator for one hour. This is so the batter thickens and the cookie dough will not sink into the batter.
Step 3 – Prepare Brookies
Preheat oven to 375 degrees F.
Using a small amount of cookie dough, roll in a ball and pat down a bit. Lay each cookie on top of each brownie and press in. You want the brownie batter to show around the outside with the cookie in the middle.
Bake approx. 20-25 minutes, or until cookie is golden brown. Test with toothpick to see if brownie is done.
This is how mine came out (if I ever make these again, I would use half as much brownie batter: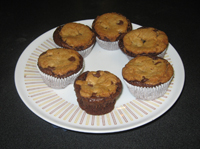 Bon appétit!
Family Rating:

I gave these three smileys because they tasted great, but I prefer to make brownies and cookies separately.
~~~~~~~~~~