I own and use most of the items on this list of kitchen gadgets, cookware, appliances, utensils, etc. Some, however, I came across during my "window shopping" and found to be interesting enough to post. I've only just begun to gather this list of kitchen gadgets and will be adding to it periodically, so please bookmark this page/post.
I moved to Knoxville a year and a half ago and still have a lot of things packed and stored in our garage. Every now and then I'll think of something that I miss using and we go in search for it. The latest was my large roasting pan (11″ x 17″) that is great for baking a large pan of lasagna, a turkey, or chicken leg quarters. I was afraid I wouldn't have room to store it but it fits nicely in the draw under my oven. I normally use my stainless steel roasting pan, but it is smaller.
I'll give my honest opinion of these products and I'll also try to think of items that I bought that did not live up to their expectations. This might save some people some money.
Just so you know, I'm an Amazon Prime member and the first place I look whenever I'm looking for something is Amazon.com. They usually have what I'm looking for at lower prices, and with Prime shipping I get everything in 1-2 days. Most of the items listed below were purchased at Amazon.com. I also have my Amazon Associate ID attached to the links. This means that anything you purchase after going through my links will earn me a small referral fee at no extra cost to you. These fees help me pay for my website. I don't earn referral fees on my own purchases, so this has not influenced my purchase decisions. Please be assured that I am giving an honest and accurate review of these products.
Most of the following are items that I bought and use on a regular basis:
Black & Decker EHC650B Ergo 3-Cup Food Chopper – This is great, but it's not exactly what I was looking for. It's more like a mini-food processor and doesn't exactly chop like the one I wanted. I was looking for something like my old hand chopper with blades shaped like an X and come down to chop the food, except that my hand gets tired from chopping, so I could find an electric one that worked the same way.
The Black & Decker EHC650B Ergo 3-Cup Food Chopper, however, is a mini food processor where the two
blades whirl around. I couldn't tell what kind of blades it had by the picture or description, but it was cheap enough for me to give it a try. When I got it, I was pleasantly surprised. It's so handy and takes up very little space on the counter, so I just leave it plugged in for quick use. I use it to chop anything from onions to chicken for chicken salad. Clean up is easy, I just put the bowl, lid and blades in the dishwasher. The bowl and lid can also be stored in the refrigerator.
My husband bought me the Slap Chop, one of those as seen on TV ones with a blade that zig-zagged. The food gets stuck between the blades and it was a pain to clean. It said it wasn't dishwasher safe, but I put it in the dishwasher, anyway. If I couldn't put it in the diswasher, I never would have used it at all. The Black & Decker EHC650B Ergo 3-Cup Food Chopper, however, is so much better.
~~~~~
EatSmart Precision Pro Multifunction Digital Kitchen Scale w/ Extra Large LCD and 11 Lb. Capacity Food scale – I
love this scale. I usually lay a small bowl or plate on top and it automatically resets back to zero so you don't have to deduct the weight of the plate. It comes in handy for weighing meat that is bought in bulk, like when I sort ground beef into one-pound packages to go into the freezer. I also use it for mail. It displays ounces/lbs/grams/kgs. It will weigh as little as .05 ounce/1 gram, and up to 11 pounds. It comes in black, white, red and silver. It also comes with the FREE EatSmart Calorie Factors guide.
~~~~~
Oxo poultry shears – These are great for cutting
through chicken cartilage and bones. When they're on sale I'll buy a 10-pound bag of chicken leg quarters and split the legs and thighs. These shears are also great for splitting chicken wings for my Oven Baked Buffalo Chicken Wings, and for cutting up a whole chicken before or after it's cooked.
~~~~~
Norpro Stainless Steel Grip-EZ Meat Pounder – So far, I've only used this for boneless chicken. It's great for flattening chicken filets without tearing them up like regular meat tenderizer mallets. I used it to make my Chicken Cordon Bleu.
~~~~~
Norpro 2 Piece Nonstick Meatloaf Bread Pan Set – I used this meat loaf pan a few times. It is a lot better than
using a regular loaf pan because it separates the grease from the meat. However, if you would rather bake a meat loaf that browns on all sides, check out my meat loaf recipe at Not Another Meat Loaf Recipe! The meat loaf browns on all sides and the grease drops down through a rack to a pan below.
~~~~~
Wilton Nonstick Cooling Grid, 10 by 16 Inch – I've never used Wilton, so I can't recommend the brand; however,
it received very good ratings. I use my cooling racks all the time, mostly for cookies. They are old and not non-stick, so I'd like to try out the Wilton non-stick cooling grid. Honestly, I don't know how you could go wrong with a cooling rack, but I still prefer to buy upon others' good recommendations. Just make sure it is wide enough for your needs. I now use my cooling rack over my roasting pan for greaseless meat loaf. See my Not Another Meat Loaf Recipe!
~~~~~
Roasting pan with non-stick rack – I came across this roasting pan on Amazon while I was
looking at the cooling racks. It's a combination roasting pan with a rack. This would also be great for my Not Another Meat Loaf Recipe! Not to mention baked chicken or other recipes where you want to separate the meat from the grease. I like this one because the rack is flat, not contoured like other roasting pans with a built-in rack. I don't own one, but it's on my list because I want one!
~~~~~
Chicago Metallic Commercial II Traditional Uncoated 16-3/4 by 12-Inch Jelly-Roll Pan, Set of 2 – I love these
baking sheets! They're large, heavy duty and don't warp. I use parchment paper and they clean up easy. They just fit in the dishwasher, although they're real easy to clean by hand. I have a pile of non-stick pans that look awful. They turn dark and lose their non-stickiness, they warp, and I can't get them clean. I still use them occasionally, but not in front of company! Now that I have my new baking sheets, I've been throwing the others away one by one.
~~~~~
Chefs Basics HW5290 2-Piece Barbecue Basting Brush Set – I use these a lot for basting BBQ sauce, egg wash, etc. The long 15″ brush is great for the grill.
It helps prevents you from getting too close to the heat. I used to use the basting brushes with bristles, but I never felt comfortable about getting them clean and they didn't hold up very well in the dishwasher. These are silicone and the food slides right off without clumping up and sticking to the brush. These work great and are dishwasher safe.
~~~~~
Leveling spatula
– I use this when I bake, especially when I'm following a recipe. I measure everything and I'm as accurate as possible. This is mainly so that if it turns out bad, I know it's not because of my measurements. 🙂 This spatula is great for leveling off dry ingredients, such as flour and sugar.
~~~~~
Joyce Chen Rice Paddle Joyce Chen Rice Paddle – I use this to stir and serve rice. It's great for sticky rice, the texture helps stir and fluff the rice and the rice doesn't stick to it. It doesn't scratch the rice pot and it's dishwasher safe.
~~~~~
Regency 12 Inch Parchment Paper Roll, 30 Foot Length – I
use parchment paper all of the time when baking, especially when my baking sheets aren't very non-sticky. I purchased this parchment paper from Amazon and found it to be a perfect width. I recently ran out and bought Reynolds Parchment Paper, but it is way too wide and I either have to fold it or turn it sideways, which is never quite as long as the baking sheet I'm using. I will definitely buy the Regency parchment paper next time.
~~~~~
OXO Good Grips Nylon Balloon Whisk – I have
a fairly new set of non-stick pans, so this is a must. I use the nylon whisk mostly for sauces and gravy when I have to whisk ingredients in the pan.
~~~~~
Ove' Glove Hot Surface Handler, Pack of 2 – I love my Ove' Gloves! In fact, when we moved to Knoxville we put most
of the storage boxes in the garage. I missed using my Ove' Glove and couldn't find it anywhere. So, as we were exploring our new surroundings we came across several As Seen on TV stores. I thought for sure I'd find the Ove' Glove there, but they didn't carry it. I think I originally purchased mine at Walgreens, but the local Walgreens didn't have it, nor did the grocery stores. Finally, I found it on Amazon. I don't know why I didn't look there first. Anyway, I use my Ove' Glove a lot, but what my husband and I use them for most are hot baked potatoes. They are perfect for holding the potato with the Ove' Glove on one hand while scooping the potato with the other. We bought the pack of 2 Ove' Gloves. Click here if you prefer the Single Ove' Glove.
~~~~~
N
orpro 1155 4-Piece Knife Organizer Set – This is a great organizer for knives. I like it because it can be adjusted to any width. The only problem I found with it is that if the drawer is too long (mine is 18″ long), the knives slide back when the drawer is opened and closed. I have a rubber liner in my kitchen drawer, but the knives still slide a little bit. It doesn't matter, though, I love it for my knives and it fits every size knife and keeps them in place.
~~~~~
Silpat Non-Stick Silicone Baking Liner, 11 5/8-Inch by 16 1/2-Inch
– I use my Silpat mostly for cookies, or when I run out of parchment paper. Cleanup is easy. It's great for baking cookies and biscuits, or just about anything that doesn't contain too much fat or grease because it would be too messy to clean. The Silpat also comes in a smaller size, 11.75-Inch by 8.25-Inch
~~~~~
Nordic Ware Microwave 2 Sided Round Bacon and Meat Grill – I love these, I have two of them so that there is always one ready when I need it. The other one might still be sitting in the dishwasher, even though they
really are easy to clean. Just run them under very hot water or wipe off the bacon grease with paper towels. The bacon side has grooves so that the fat drops down into the grooves. There's a small opening on the bacon side where you can pour off the drippings. I love the thin crispyness of the bacon when it's cooked this way, and there's very little fat. I place a paper towel on top and cook my bacon on high for 3-4 minutes. I've read where some cook it at 70% power for 5-7 minutes. You just have to experiment. Of course, it also depends on how thick the bacon is.
The flat side is great for warming up tortillas. I place a stack of them on the flat side, place a paper towel on top, and add a few drops of water sprinkled over the top for warm, moist tortillas. I heat a stack of them for about 30 seconds on high.
~~~~~
OXO Good Grips Apple Corer and Divider. I love my apple corer! It really isn't that difficult to core an apple or slice it,
but this little gadget does both at the same time, and it's so easy! I do prefer to peel my apples first, though, and the next device below this one is on my list of "I gotta get me one of these!"
~~~~~
OXO Good Grips Potato Ricer – I had never even heard of a potato ricer until I saw it on Breaking Bad…lol!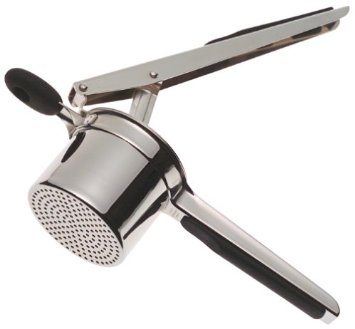 Walter's wife, Skyler, was being complimented on her smooth and creamy mashed potatoes by her sister, Marie. Skyler said she used a potato ricer.
Then, one day I was looking at a recipe for hash browns. One woman said she just shredded the potatoes and then pressed the moisture out with paper towels. Her husband said they were too mushy that way, and that he prefered to use the potato ricer because it squeezed out the excess water.
So, I decided to buy a potato ricer. I have had good luck with OXO, so that's the one I chose.
I love it! Not only is it great for mashing potatoes, but you don't even have to peel them. Just press the potatoes (halved or quartered) and it leaves the skin behind. This is convenient if you are only making a few potatoes, otherwise I'd peel them first. These potatoes come out so smooth, you don't need to add as much butter and cream, which is even healthier!
This is also great if you want to squeeze the moisure out of shredded potatoes or spinach. I love spinach dip, and this makes it so much easier. It can also be used to mash bananas, carrots, potatoes and yams. If you think of any other uses, please comment here or at My latest gadget, the OXO Good Grips Potato Ricer.
BTW, homemade shredded hash browns are so easy and delicious. Click here for the recipe!
~~~~~
Fitz-All Set of 2 Replacement Pot Knobs – I recently bought these pot knobs and now I wonder why it took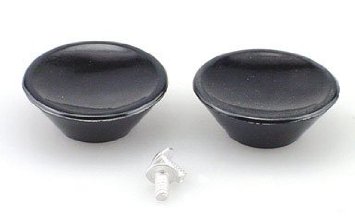 me so long! I melted the handle on my crock pot years ago and it was a pain to grab it in order to lift the lid. I couldn't find a replacement knob for the Rival Crock pot, so everytime I used my crockpot (maybe once or twice a month), I would take a screwdriver and unscrew the knob on my dutch oven and screw it onto my crock pot. At least I was fortunate to have another knob that fit.
One day I was actually looking for something else when I found these on Amazon. One reviewer made a comment about how it fit her crock pot, so I immediately placed it in my Amazon shopping cart.
I'm also an Amazon Prime member, so shipping was free and I received them in two days.
These knobs are great! They even match the rest of my cookware. They are dishwasher safe and heat resistant. The package includes two knobs with large rustproof aluminum screws. I keep one in my kitchen draw as a backup.
~~~~~
Jaccard Meat Tenderizer – *This meat tenderizer is the bomb! It pierces the meat with 48 tiny surgical steal blades (3 rows of 16 blades), which pierces the connective tissue and muscle fibers easily, allowing marinades in, making meat less tough, and it speeds up cooking time.
** Most tough cuts of meat have distinct lines in them. These lines are fibers that can be really chewy. The acid in marinade helps break up these fibers; acids such as vinegar and acidic fruit like kiwi, lime, and lemon. Slice thinly across the grain, which makes the meat more tender and easier to chew.
Other less expensive and even less tender steaks that would require tenderizing and marinating would be:
Top round steak, skirt steak, and flank steak (aka London broil).
Anyway, you don't have to have a Jaccard to get a tender piece of meat; you can use fork tines or a knife blade to pierce the steaks, it just takes a little longer.
~~~~~
Trudeau Garlic Press – Okay, I'm probably one of the last
people to buy one of these. I don't know what took me so long. This little gadget is great for peeling and mincing garlic cloves. In fact, it's very much like the potato ricer in that it presses the garlic through the holes on the bottom. I tried pressing garlic through the potato ricer, but it didn't work. I think the garlic press is a sharper than the potato ricer and it's much smaller. I used to buy minced garlic because I could never chop it fine enough. This garlic press makes perfectly minced garlic.
Also, this garlic press is two sided. Flip it one way to press the garlic cloves, and flip the other way where tiny rubber tips push the excess garlic through the holes for cleaning. My husband purchased this in red at Kroger, but this exact same garlic press can be purchased at Amazon.com. It has soft, easy grip handles and is dishwasher safe. It comes in black or red.
~~~~~
Crock-Pot Cook' N Carry 6-Quart Slow Cooker – My husband made his chili again this year for the chili cook-off at work, so I bought him the red locking CrockPot (shown here) so that he could carry it back
and forth to work.
I also used it for a pork loin roast, and it was wonderful!. The next day, I used it to make pulled pork sandwiches with the leftover pork loin. Yum! I just cooked it a little longer with a little bit of water until I could pull it apart with two forks. I added BBQ sauce and let it cook on low until it was heated all the way through. I bought mine at Kroger, but it's also at Amazon.com – It comes in Red or Stainless Steel.
~~~~~
I finally got one of these!
Victorio VKP1010 Apple and Potato Peeler, Suction Base – This apple and potato peeler has gotten really great reviews. The reviewers claim that you can core, peel and slice an apple in less than 30 seconds. This makes baking apple pies so much better…Mmmm! Remove the coring blade and you can peel potatoes, too! I just got this and will come back and update after I've tried it out.
~~~~~
Paderno World Cuisine Tri-Blade Spiral Vegetable Slicer – I have to say, this is the one kitchen gadget that I have the most fun with! When I first got it, I grabbed every vegetable I had that could be sliced. Apples, cucumbers, onions, potatoes, sweet potatoes, and zucchini.
I actually prefer to use my Victorio Apple and Potato Peeler/Slicer when I'm peeling and slicing lots of apples, but for a quick slicing job I hand peel the applies and use the Paderno slicer because clean-up is so much easier. The slices are very thin compared to the 1/4? slices from the Victorio.
As surprised as I was, my favorite of all the vegetables I've sliced so far is (drum roll please) the ZUCCHINI. I have been wanting to try zucchini spaghetti. I call them Zoodles (zucchini noodles). I served them just like spaghetti, with a marinara/spaghetti sauce. At first, it reminded me of Chinese food. It didn't taste like spaghetti pasta at all. But, as it turned out, I absolutely loved it! I couldn't get enough. So, I went back to the kitchen and gathered all the zucchini peelings. I chopped those up and sauteed them in oil and garlic. Next time, I will not peel the zucchini, the zucchini peels tasted great, too!
See our post with a complete review of the Paderno Spiral Vegetable Slicer Here
~~~~~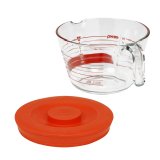 Pyrex 8-Cup Measuring Cup with Red Plastic Cover. I love this bowl for mixing cookie dough, cakes and brownies. I also use it for letting dough rise.
~~~~~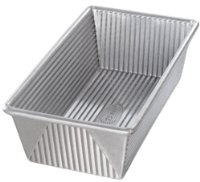 10″ x 5″ x 3″ Loaf Pan, made by USA Pans. This is a great size for my bread, but it also comes in 9″ x 5″ x 2.75″.
~~~~~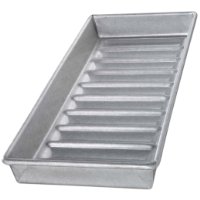 15″ x 6″ x 1.5″ New England Hot Dog Pan, made by USA Pans. These are great for grilling beautiful, buttery, New England style hot dog buns.
~~~~~
---
Below is a list of bakeware, cookware, or gadgets that I have purchased but have yet to add photos. I love them all! Click on the links below to view on Amazon.
If you have any cookware, kitchen gadgets or utensils that you just love, or would place on your "I gotta get me one of these!" lists, please leave a comment…Susan.
---
---