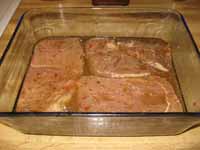 I just tried this quick and easy marinade for tonight's grilled sirloin tip steaks, also known as New England flap steak. I didn't have as much time, so they marinated for about 4 hours instead of overnight. The longer they marinate the better.
As a side note, we usually grill more tender steaks, such as rib eyes or NY strips, or even top sirloin steaks that do not need to be marinated. Sirloin tips, however, are a different cut of meat, not to be confused with top sirloin steaks, which are quite tender. The sirloin tip is part of the round, which is a lean and tougher cut, similar to eye of the round and swiss steak. I like to buy the sirloin tip roasts and slice them into 3/4″ steaks. They are quite flavorful and easier on the budget, as well. This was the manager's special, which were still quite fresh, and about $3.99 a pound.
Recipe for Quick and Easy Steak Marinade
Ingredients:
Four 3/4″ Sirloin tip steaks (approx. 3 lbs. sliced from sirloin tip roast)
1/4 Cup Worcestershire sauce
1 Cup Italian dressing (I used Food Club from Food City)
2 Tbsp soy sauce
Directions:
Mix Worcestershire sauce, Italian dressing and soy sauce in small bowl. Set aside.
First of all, I used the Jaccard meat tenderizer to pierce my steaks*. This speeds up marinating and cooking time, not to mention producing a very tender steak. I pierce both sides several times. This does not ruin the texture or cause any loss of juice, in my opinion, as the holes close up when cooking.
Lay the pierced steaks flat in one layer in a rectangle pyrex dish (not aluminum). Pour half of the marinade over top of steaks and Jaccard again or just let marinade seep in. Turn over and pour remaining marinade over steaks and Jaccard or just let marinade seep into the holes. Cover with lid, plastic or foil. Refrigerate for up to 4 hours, turning after two hours.
Generally, oil (canola, olive oil, vegetable), acid (white vinegar, lime juice, wine vinegar) and flavorings are used for marinating the meat. I decided to try the Italian dressing because it had all three of these ingredients. In fact, I don't think the Worcestershire or soy sauce was necessary, but they may have added a bit more flavor.
Turn gas grill to medium and grill steaks approx. 4 minutes on one side, until slightly charred. Turn only once and brown other side for just a few more minutes. If you have an instant read thermometer, insert deep into the side of the steak. It should read no more than 135 degrees. You don't want to overcook these steaks because they are much more tender when medium rare. Slice thinly at an angle across the grain**.
Serves 4.
We had actually grilled a combination of three sirloin tip steaks, one rib eye, and half of a leftover NY strip. Mind you, that was four and a half steaks for three people. I had a sirloin tip and my husband ate the rib eye. My son, Patrick, is the steak connoisseur around here. He ate the small NY strip and one of the sirloin tip steaks. He loved the sirloin tip more and went back and finished off the last sirloin tip. Note that the only steaks that were marinated and Jaccarded were the sirloin tips. My husband tasted the sirloin tip and liked it, too. He suggested that I use this marinade for chicken as well. It would make a good basting sauce, too.
So, all in all, the cut of meat didn't matter as much as the taste of the marinade. The consensus was it was the Jaccard and the Italian dressing that made the difference. Sure, I'd rather have filet mignon or a nice porterhouse that required no tenderizing or marinating, but these sirloin tip steaks were really tasty and easy on the pocketbook.
I would also like to mention that lean beef is one of the top five 25 Ridiculously Healthy Foods according to Prevention.com.
*This meat tenderizer is the bomb! It pierces the meat with 48 tiny surgical steal blades (3 rows of 16 blades), which pierces the connective tissue and muscle fibers easily, allowing marinades in, making meat less tough, and it speeds up cooking time.
** Most tough cuts of meat have distinct lines in them. These lines are fibers that can be really chewy. The acid in marinade helps break up these fibers; acids such as vinegar and acidic fruit like kiwi, lime, and lemon. Slice thinly across the grain, which makes the meat more tender and easier to chew.
Other less expensive and even less tender steaks that would require tenderizing and marinating would be:
Top round steak, skirt steak, and flank steak (aka London broil).
Anyway, you don't have to have a Jaccard to get a tender piece of meat; you can use fork tines or a knife blade to pierce the steaks, it just takes a little longer.
Bon appétit!
Family Rating:
---