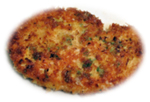 I made these pork chops the other night, and they came out absolutely delicious. They started out on the stove to brown in garlic, butter and olive oil, and then I baked them in the oven. I wish I had a large cast iron skillet, it would have been perfect for this stove-to-oven recipe. Instead, I transferred the pork chops, along with pan bits and oil, to a roasting pan and placed it in the oven. They still came out great.
Ingredients:
4 bone-in or boneless pork chops
1 to 2 eggs (start with one, add more if needed)
1 tablespoon milk per egg
1/2 to 1 cup flour
1/2 to 1 cup Italian seasoned breadcrumbs
1/2 cup grated Parmesan cheese
2 tablespoons dried parsley
2 tablespoon olive oil
1 tablespoon butter or margarine
4 cloves garlic (sliced or quartered, will be discarded later)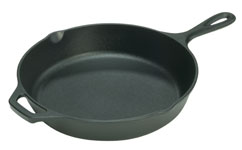 Lodge Logic Pre-Seasoned Skillet
Directions:
Preheat oven to 325 degrees F (160 degrees C).
Set out three bowls for breading. One for beaten milk and egg, one for flour, and one for breadcrumbs mixed with Parmesan cheese and parsley.
Heat oil and butter in a large, oven-proof skillet over medium heat. Saute garlic until lightly browned. Disgard garlic or reserve for other uses.
Dip each pork chop into egg mixture, then flour, egg mixture again, and then into the breadcrumb mixture, coating evenly on both sides. You may not think the flour is necessary, but it helps bind the breadcrumbs to the pork chops.
Place coated pork chops in the skillet, and brown for five minutes on each side.
Transfer skillet to oven and bake 25 to 30 minutes. If you don't have an oven proof skillet, transfer browned pork chops with any remaining oil and bits to roasting pan.
Serve with desired side dishes – vegetables, rice, potatoes or pasta. I love applesauce with pork chops.
Bon appétit!
Family Rating:
Tell us what you think!
Please leave a comment and let us know if you liked this recipe.
Do you have a favorite recipe for pork chops that you'd like to share? If so, please use the comment box below and leave a link that goes directly to your recipe. Also, please add a link back to Susan's Musings.
Thank you!
~~~~~~~~~~