I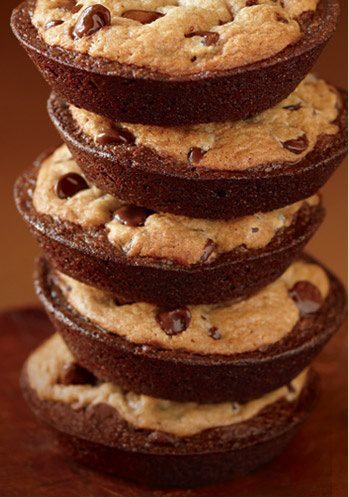 found these Brookies on Frugal-Freebies.com's Facebook page. This is what they're supposed to look like. Good luck with that! If you decide to make them, please upload a photo or link, I'd love to see how they came out!
This was my recipe for Brookies:
Step 1 – Make Cookie Dough
The recipe is on the package of Nestle Tollhouse Chocolate Chip Cookies, but here it is in case you use your own chocolate chips or you can substitute M&Ms for chocolate chips.
Ingredients:
2 1/4 cups all-purpose flour
1 teaspoon baking soda
1 teaspoon salt
1 cup (2 sticks) butter, softened (can use grater to shred hard butter)
3/4 cup granulated sugar
3/4 cup packed brown sugar
1 teaspoon vanilla extract
2 large eggs
2 cups (12-oz. pkg.) NESTLÉ® TOLL HOUSE® Semi-Sweet Chocolate Morsels or regular size M&Ms
1 cup chopped nuts (optional)
Directions:
Combine flour, baking soda and salt in small bowl. Beat butter, granulated sugar, brown sugar and vanilla extract in large mixer bowl until creamy. Add eggs, one at a time, beating well after each addition. Gradually beat in flour mixture. Stir in morsels and nuts. Chill bowl in refrigerator. Continue reading »