Thanksgiving is going to be very different this year. First

of all, there are only the three of us, my husband, Bob, our 17-year old son, Patrick, and me. This will be our first Thanksgiving in Tennessee. We have lived here for almost two years, but last year we spent Thanksgiving with Bob's dad and sister in Cincinnati. That was the first time we'd seen them in over four years.
Still, I plan on buying a big turkey for just the three of us. I absolutely, positively love leftover turkey sandwiches and all the great turkey dishes I have learned to make over the years, so I like to have extra. Even if I weren't cooking at home this year, I would have cooked a turkey just for the leftovers. Our extended family are pretty spread out this year, so the three of us, plus Ibis the cat, will be staying home to enjoy our first Thanksgiving in Tennessee.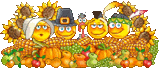 Continue reading »