I can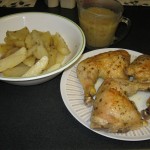 never pass up a good deal in the meat department. A 10 lb bag of chicken leg quarters for $6.90. That's only $0.69 per pound. Not bad, huh?
I browsed the cooking sites and came up with the following recipe for tonight's dinner.
Roasted Chicken Leg Quarters with Potatoes and Garlic
Ingredients:
3 chicken leg quarters* (3 legs and 3 thighs)
4 russet potatoes, peeled and quartered longwise
3 garlic cloves, cut in half
1 15-oz. can chicken broth
1/2 cup olive oil
1/3 cup lemon juice
2 tsp oregano
Salt & pepper
2 tbsp cornstarch
1/2 cup cold water
Directions:
Preheat oven to 375 degrees.
In a large roasting pan (mine measures 11″ x 17″ inside), lay out chicken leg quarters, potatoes and garlic. Salt & pepper. Pour half of the chicken broth over chicken. In small bowl, whisk olive oil, lemon juice and oregano. Pour lemon mixture over chicken.
Bake for 1 hour, 15 min, or until chicken is golden brown and potatoes are tender. Baste with pan juices occasionally. Remove chicken and potatoes from pan and place on platter. Remove garlic halves and pour off fat. Put roasting pan across two burners, or pour pan juices into a sauce pan, add remaining chicken broth.
Gravy:
In small bowl, add cornstarch to cold water and whisk quickly until cornstarch dissolves. Continue to whisk cornstarch mixture and add a little bit at a time to the pan juices. Continue whisking over medium-low heat until thickened.
This came out delicious! Not too lemony but with a very nice flavor.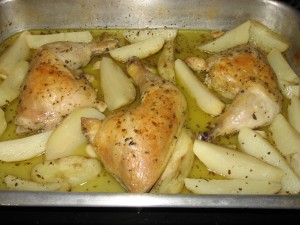 I left the chicken leg quarters intact, without splitting them apart. I split the remaining leg quarters with my poulty shears and put them in the freezer. I love my Oxo Good Grips Professional Poultry Shears from Amazon..
*Of course, you can use any combination of chicken pieces you'd like. I sometimes add bone-in chicken breasts.
Please come back and comment if you try this recipe!
Bon appétit!
Family Rating:
---