I've added a new kitchen gadget to my blog post, "My kitchen gadgets, utensils and bakeware recommendations" at http://susans-musings.com/my-kitchen-gadgets-utensils-and-bakeware-recommendations.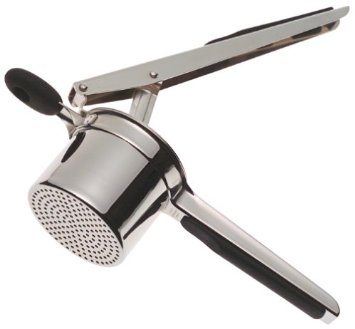 OXO Good Grips Potato Ricer
I had never even heard of a potato ricer until I saw it on Breaking Bad…lol! Walter's wife, Skyler, was being complimented on her smooth and creamy mashed potatoes by her sister, Marie. Skyler said she used a potato ricer.
Then, one day I was looking at a recipe for hash browns. One woman said she just shredded the potatoes and then pressed the moisture out with paper towels. Her husband said they were too mushy that way, and that he preferred to use the potato ricer because it squeezed out the excess water. Well, I found the website, and here's how the conversation went:
The debate usually begins like this.
ME: Dad, how do you make your hash browns turn out so crispy?
DAD: Use a potato ricer. It's the only thing I've found that really gets the moisture out of the potatoes. The trick to these hash browns is to get rid of as much moisture as possible before cooking them.
MOM: I always used paper towels to press out the moisture.
DAD: Your hash browns are mushy.
MOM: I made this family hash browns for forty years and you never complained. They're perfectly fine.
DAD: They were mushy.
MOM: You ate them!
DAD: Yes I did. And they were mushy.
(and the debate continues as I quietly leave the room.)"
source: http://www.simplyrecipes.com/recipes/crispy_hash_browns/
I tried paper towels, but it was a hassle. The shredded potatoes stuck to the paper towels and had to be picked off.


So, I decided to buy a potato ricer. I have had good luck with OXO, so that's the one I chose. I love it! Not only is it great for mashing potatoes, but you don't even have to peel them. Just press the potatoes (halved or quartered) and it leaves the skin behind. This is convenient if you are only making a few potatoes, otherwise I'd peel them first. These potatoes come out so smooth, you don't need to add as much butter and cream – which is healthier!
This is also great if you want to squeeze the moisture out of thawed frozen spinach (great for spinach dip). It can be used to mash bananas, carrots, potatoes and yams. If you think of any other uses, please comment here.
BTW, homemade shredded hash browns are so easy and delicious. Here's how I make them:
Homemade Shredded Hash Browns
Ingredients:
2-3 Tbsp butter or oil (canola, grapeseed, olive, or vegetable oil)
1 small potato per person (peeling not necessary)
Salt and pepper
Equipment needed:
Cheese grater/shredder
Large frying pan (preferably a cast iron skillet)
Potato ricer
Spatula (plastic if using non-stick cookware)
Directions:
One small potato makes a nice sized portion of hash browns.

Just hold and scrape a potato against a cheese shredder (watch the knuckles). Voila! You have a nice mound of shredded potatoes.

Then, press them with the potato ricer to remove the excess water. Don't force the potatoes through the ricer, just press out the moisture. If you don't have a ricer, press out the moisture with paper towels.

Heat butter or a small amount of oil in skillet, then spread out a thin layer of potatoes, patting them down with a spatula. If I'm making 2-4 servings I use a 12″ skillet so that I can spread them out very thin.

Cut into four wedges, so that it's easier to turn. Brown on both sides. Delicous!

These are way better than frozen hash browns and don't take as long to brown.
Bon appétit!
Family Rating:
~~~~~