Not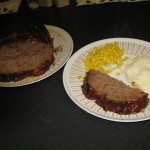 another meat loaf recipe, you say? Well, let's add just one more to your collection. This recipe is the very last meat loaf recipe that I will ever try. There is no reason to ever look for another meat loaf recipe. This is, hands down, the best meat loaf I have ever made!
I admit it, I like simple and easy meals that I can defrost and put in the oven without much fuss. It's been a couple of years since I made this recipe. In fact, I forgot how good it was until I made it again the other day. Most of the time, when I'm shopping I'll grab a Stoeffer's frozen meatloaf in gravy entree. It was always just enough for four of us, with no leftovers. It's so easy to make, with no preservatives, gravy included, and quite tasty. I served it with mashed potatoes and vegetable, rolls and butter. However, it isn't as good as homemade and I never had any leftovers. I love leftover meat loaf sandwiches.

So, when I went grocery shopping last week, I decided to buy three pounds of lean ground beef instead of a frozen meat loaf.
It was about two years ago that I was talking to my best friend and asked her what she put in her meat loaf. She said she used eggs, onions, oatmeal and ketchup. I found several more recipes online and using a combination of the three, the following is what I came up with. Two pounds of ground chuck would be plenty for 4 servings, but I used three pounds so that I would have leftovers. Some prefer to make their meat loaf with ground beef, pork and veal, this is your choice. I prefer to use ground chuck (80/20), not too dry and not too much fat. This meat loaf was the most moist and tender inside, with the best tasting sauce on the outside. This was definitely a keeper!
Meat Loaf Ingredients:
3 pounds lean ground chuck (80/20) – or 1/3 each of ground beef, veal and pork
1 cup quick oats
2 eggs
1/2 cup ketchup
1/2 cup half & half (since it was on hand) or you could use milk or water
1/4 of a chopped red pepper for color and taste
1 envelope of onion soup mix (don't leave this out)
Dried parsley (of course, fresh would be better)
Dried thyme
Garlic powder
Salt and pepper
Meat Loaf Topping Ingredients:
1/2 cup ketchup
1/4 cup brown sugar
2 tbsp worcestershire sauce or soy sauce **
1 tsp prepared yellow mustard
Note:If you choose to only make two pounds, don't change the amounts of the other ingredients.
Preheat oven to 350 degrees.
Mix meat loaf ingredients (not topping) in a large bowl, combining soup mix well (I use my hands).
I used to hate how all of the drippings (grease) would fill the meat loaf pan. Then, I bought the loaf pan with an insert that drained into the one below. This worked very well for a long time, but the meat loaf never seemed to brown and give a nice crust on the sides. So, here's something I recently found at Foodiewife-kitchen.blogspot.com, which she got from America's Test Kitchen (Cook's Illustrated).
Place a cooling rack on top of a roasting pan. Then, place a piece of foil that is a little bigger than your meat loaf and place it on top of the rack. Poke holes all over this piece of foil so that the drippings will drain into the pan below. Then place the meat loaf on top. In the end, I love this method, it worked like a charm! However, I found a roasting pan with a non-stick rack at Amazon that I'm going to order. You can buy it at Amazon US | CA
I forgot to take pictures before I placed it in the oven, but you can see photos before and after I brushed on the topping.
Cooking time is approximately 30-40 minutes per pound. For a three-pound meat loaf, almost 2 hours. Remove meat loaf from oven after one hour. If you used a regular pan, drain most of the drippings.
Meanwhile, mix meat loaf topping ingredients in small bowl. If brown sugar is hard, you might try mixing in a small pan over low heat until sugar dissolves. Let cool on stove while meat loaf is cooking.
Pour topping over meat loaf and, using a basting brush, cover all sides. Roast remaining 30 minutes, or until done. You could test with a meat thermometer during last 30 minutes to make sure it's done, approx. 150-160 degrees. Remove to platter. Serve with mashed potatoes and vegetable.
Okay, this is embarrassing, but I made a big mistake when making the topping tonight. I had the ingredients laid out
on the counter, so my husband could see them. I made the topping and basted the meat loaf.
During dinner, I was telling my son what was in the sauce. My husband said, that wasn't worcestershire, that was soy sauce. Sure enough, when I checked the spot in the refrigerator where I had placed it, it was soy sauce. It was sitting right next to the worcestershire. The bottles look the same, and this is the second time I have made that mistake!
Well, the topping/sauce was a big hit, so I changed the recipe to show either worcestershire or soy sauce. I actually think the soy sauce is better. I couldn't even tell that it was soy sauce, but it added a really nice flavor to the topping.
Last time I made this meat loaf, I heated up a jar of gravy to go with the meat loaf and mashed potatoes, but this time, the meat loaf topping was so good that this time I served remaining sauce with the meat loaf. Consensus, gravy not required.
This meat loaf will serve 4 with plenty of leftovers. There's only three of us, so that's more meat loaf sandwiches!
As for the family rating. I love meatloaf, and this is my favorite recipe. I give it 5 smileys. My son, on the other hand, doesn't like any kind of sauce except for spaghetti sauce or gravy, and he puts A-1 sauce on everything else! He gave it 3 smileys (after I cut off the topping part). My husband isn't crazy about meatloaf, but he eats anything I cook, and he loved the sauce. He gave it 4 smileys. So, I have to be honest. As a family, the average rating would be 4 smileys. But I think meatloaf lovers would really love this recipe.
Bon Appetit!
Family Rating: