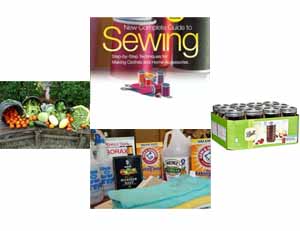 Homemaking is popular again! Remember the days when our grandmothers (and grandfathers) would make everything from scratch, or perform tasks that most people hire someone to do today? Well, those days are here again! Doing things at home and by your own hand is a choice, not a chore. A new generation is embracing the do it yourself (DIY) mentality, even beyond home improvement projects.
Make your own cleaning supplies; alter, mend and sew your own garments; grow your own vegetables, can your own jams, knit or crochet wonderful gifts for family and friends. The list goes on. And you know what? Many of these are great family activities and can be so much fun to do together!
Think of how proud you feel after accomplishing a do-it-yourself project. Once you start, you gain the confidence to learn how to do more things you never thought about doing yourself. Things that many frugal moms have been doing for years. One such friend owns and operates Frugal-Freebies.com, where they post all kinds of do-it-yourself products and ways to save money.

Since 2007, we've seen some pretty tough economic times that we haven't seen since the Great Depression. More people are choosing to go from buying take out to cooking themselves; sewing or mending a garment instead of going to a tailor, even making their own household cleaners, such as laundry and dishwashing detergent, carpet freshener and carpet cleaners, bathroom tub and tile cleaners, grease cutting floor cleaners. Most of these items can be made with normal everyday ingredients like lemons, baking soda, salt and vinegar. Who knew? In fact, I never paid much attention before, but now I see Borax, washing soda (baking soda baked in the oven), and vinegar sold by the gallon and stocked in the cleaning supply aisle at our local grocery store.
Check out my post titled, "Do It Yourself Cleaning Solutions – Click Here!
How many back to basic skills have you forgotten, or never learned in the first place? There is plenty of free information and how-to's on the Internet; all you have to do is search for them.
The author, Erin Bried, was on Katie the other day. She inspired me to write this post. Check out her books on Amazon, available in paperback and Kindle edition:
How to Sew a Button: And Other Nifty Things Your Grandmother Knew –
Paperback | Kindle
How to Build a Fire: And Other Handy Things Your Grandfather Knew –
Paperback | Kindle
If you have any frugal tips, or if you've done any of the things mentioned above, please comment below. I would love to hear about it. Feel free to leave a link to your frugal or money-saving article or website.
Check out my beginner sewing machines at BeginnerSewingMachines.net where you'll see some great sewing machines for the beginner sewer, and some great suggestions for sewing and craft books, how-to's, and supplies, or more advanced embroidery and sewing equipment and accessories at TheRightStitch.com.
Happy Homemaking!
~~~~~~~~~~