My husband was born and raised in Cincinnati, and he makes his mom's recipe for chili (may she rest in peace). Although he is from Cincinnati, this chili is somewhat different than most of the recipes I've found for Cincinnati chili, or any chili for that matter. I sometimes wonder if he left out some of the ingredients since it was never written down (that I know of), but it is delicious just the way it is.
This is the recipe that we eat most often, since my husband enjoys making it 🙂
Bob's Chili
Ingredients:
1 lb lean ground beef
1 15-oz can light-red kidney beans
1 lg can crushed tomatoes
1 15-oz can stewed tomatoes
1 lg chopped yellow onion
12-16 oz bottle of Hunt's catsup
1 tsp allspice
1 tbsp chili powder (add more to taste)
3 bay leaves
salt & pepper to taste
2 cups water
Directions:
Brown ground beef in frying pan, drain. Add all ingredients to a large pot, bring to boil and then simmer for 3-4 hours. Serve over spaghetti, and add your favorite toppings. Note: The catsup is what makes it sweet. You can use 15 oz. tomato sauce or 6 oz. tomato paste instead, but my husband says the catsup is what makes this chili special.
Toppings:
onion, finely chopped
shredded cheddar cheese
oyster crackers
~~~~~~~~~~
Now for the real Cincinnati/Skyline Chili recipe.
I was born in Boston, but from the age of 12 I grew up in Fort Lauderdale, Florida. One of my favorite restaurants was the Skyline Chili at the corner of Federal Highway (US1) and NE 26th Street. Their four-way and five-way chili, along with their chili dogs, were to die for.
Cincinnati/Skyline chili is far different than the Texas chili that most people are familiar with. This chili was created by a Greek restaurant owner in Cincinnati. What makes it different is the way the meat is cooked, and it has a thin sauce-like consistency. It was prepared with a wonderful blend of Middle Eastern spices that includes cinnamon, chocolate or cocoa, allspice, cumin, and Worcestershire. It was served in one to five ways. The five-way had spaghetti topped with chili, chopped onion, kidney beans, and finely shredded cheddar cheese served with oyster crackers. And if you had a really big appetite, add to that a side order of hot dogs topped with more shredded cheese.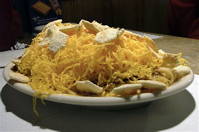 So, while researching many different recipes for Cincinnati-style chili, I came across this authentic recipe from Skyline Chili. According to one reviewer, it was printed in the Cincy Inquirer in the early 70s.
Authentic Skyline Chili Recipe from Allrecipes.com.
Ingredients:
2 lbs lean ground beef
4 cups water (1 quart)
2 onions, finely chopped
1 15-oz can tomato sauce
2 tbsp vinegar (I use cider vinegar)
2 tsp Worcestershire sauce
4 cloves garlic, minced
1/2 square (1 oz.) grated unsweetened baking chocolate
1/4 cup chili powder (start with 2 tbsp and add more to taste)
1-1/2 tsp salt
1 tsp ground cumin
1 tsp ground cinnamon
1/2 tsp ground cayenne pepper
5 whole cloves
5 whole allspice berries (1-1/2 tsp allspice)
1 bay leaf
1 lb spaghetti
Toppings:
red kidney beans*
chopped onion
shredded cheddar cheese
oyster crackers
Directions:
Place the ground beef in a large pan, cover with about 1 quart of cold water, and bring to a boil, stirring and breaking up the beef with a fork to a fine texture. Slowly boil until the meat is thoroughly cooked, about 30 minutes, then remove from heat and refrigerate in the pan overnight.
The next day, skim the solid fat from the top of the pan, and discard the fat. Place the beef mixture over medium heat, and stir in the onions, tomato sauce, vinegar, Worcestershire sauce, garlic, chocolate, chili powder, salt, cumin, cinnamon, cayenne pepper, cloves, allspice berries, and bay leaf. Bring to a boil, reduce heat to a simmer, and cook, stirring occasionally, for 3 hours. Add water if necessary to prevent the chili from burning.
* Note: Cincinnati/Skyline chili never has beans in it. Kidney beans come with the 5-way chili. Some even say that it doesn't have onions in it, but every recipe I've found has onions in the chili.
The Cincinnati "Skyline" Chili Ordering Code
1-way: just the chili
2-way: chili served over spaghetti
3-way: chili, spaghetti, and grated cheddar cheese
4-way: chili, spaghetti, cheese, and onions
5-way: chili, spaghetti, cheese, onions, and beans
All "ways" are served with oyster crackers.
~~~~~~~~~~
Want to cheat a little bit? Check out this 6 Pack Cincinnati Chili Mix Packets
My husband made his chili again this year for the chili cook-off at work, so I bought him the red locking CrockPot (shown here) so that he could carry it back and forth to work.

Crock-Pot Cook' N Carry 6-Quart Slow Cooker
I bought mine at Kroger, but it's also at Amazon.com – Red or Stainless Steel.
See our post – Crock-Pot Cook' N Carry 6-Quart Slow Cooker – Click Here!
Tell us what you think!
Please leave a comment and let us know if you liked this recipe.
Do you have a favorite recipe for chili that you'd like to share? If so, please use the comment box below and leave a link that goes directly to your recipe. Also, please add a link back to Susan's Musings.
Thank you!
~~~~~~~~~~