How to Unclog a Toilet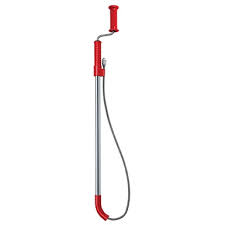 Ridgid 59787 K-3 3-foot Toilet Auger with bulb head
I woke up the other day to hear my husband and oldest son yelling. I could tell something bad happened, and my first thought was that something happened to the van. My oldest son works nights and it was around the time that he usually gets home, which was just before eight o'clock in the morning.
As it turns out, the toilet in the main bathroom had overflowed and my son was dealing with sopping up the floor with wet towels. He had turned off the water and slowly, over a long period of time, unclogged the toilet. All we have is a toilet plunger and it just didn't want to do the job. After plunging many times, adding hot water and liquid soap, and poking it with a wire hanger, the clog finally came loose and flushed away. I suspect it was from a build up of toilet paper. He who shall remain nameless (my youngest) has had this happen before when we lived in the townhouse. We have been here just over a year and it was the first toilet overflow in this house.
Anyway, I took it upon myself to do some research and found the perfect tool just in case it happens again. My son and I practiced using it and it was very easy to do. We will be prepared next time.
I found the Ridgid 3-foot Toilet Auger at Amazon, which is my #1 goto for shopping. I have Prime Membership and it's been worth its weight in gold, not just for the free shipping but it almost always arrives in one day because we're close to the warehouse. So, if you ever have a problem with a clogged toilet, give this a try. It's used by professionals (imagine paying a plumber $200 to unclog a toilet) and can easily be used by the average homeowner. I'd much rather spend less than $40 and have it for the rest of our lives. I'm sure this isn't the last time we will have to deal with a clogged toilet.
Once you realize the toilet is backing up, try to hurry up and turn off the water under the toilet. This will at least stop the bowl from filling back up. Grab the plunger and using short bursts try plunging six to eight times. Hopefully, this will release the clog and the water will drain. Unfortunately, if the clog is too big a plunger will probably not be good enough.
Basically, to use the auger you want to pull the snake-like coil up into the tube. Place the bulb head into the hole in the toilet with the plastic part resting against the porcelain for protection. Don't touch the metal snake against the bowl or it might scratch. Then, push down on the tube while turning the handle. This will push the snake down into the drain. After turning the handle several times, you might notice that the water has started to go down. Pull the tube snake back out of the drain while turning the handle. Either the snake pushed the clog all the way through, or the snake will have the material that was clogging the toilet wrapped around the bulb head. Usually, it will pull out a big wad of toilet paper, other times it will have something else. Once the clog has been cleared, push the snake down again while turning to make sure the clog is completely gone. Then, while the snake is still down, flush the toilet a couple of times to rinse it off before you retrieve it. That's it!
To use the auger, read the instructions on the package carefully. There is also a video below that demonstrates very well how it is done.
---
How to Unclog a Sink or Tub Drain
Do you ever find yourself with water up around your ankles while you're taking a shower? Or does your sink drain ever so slowly when you're trying to brush your teeth?
Well, I found the coolest gadget…EVER… that really works! While I was shopping for the toilet auger (above) I remembered that I needed something that would help me unclog my sink and tub drains. After reading the reviews, I decided on the FlexiSnake Drain Millipede Hair Clog Tool for Drain Cleaning. When I ordered it I accidentally ordered two. I'm not sure how that happened because I am usually pretty careful when reviewing my orders. Anyway, as it turns out, I was glad to have one for each bathroom. This little tool is fantastic! It fits right under the sink stopper, so you don't have to remove the stopper. All you have to do is wiggle it around a little while feeding it into the drain. It doesn't have to go very far before you can feel it catching onto something. As soon as I pulled it out I couldn't believe it! It really was disgusting to think all that hair and goo was clogging my sink. I suggest that you wear rubber gloves when you use it so you can pull the hair off. What doesn't come off easily can be scrubbed with an old tooth brush. It is reusable, so I after I cleaned it I stored it under the sink where it will be handy the next time I need it.
FlexiSnake Drain Millipede Hair Clog Tool for Drain Cleaning
Happy Plumbing!
---
The following two tabs change content below.
I created this blog just so I could write about anything and everything that comes to mind, whatever I feel like saying, whenever I feel like posting. This is not a Christian-only site or a political board filled with propaganda and rhetoric. I want my blog to be fun and interesting, offering people helpful tips and information, as well as thoughtful and entertaining content. Thanks for visiting!