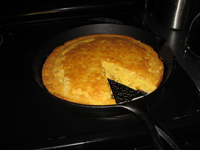 Up until now, I would make this in a cake pan, and it came out pretty good. But I've always wanted to try it in a cast iron skillet. I finally bought a new 12″ cast iron skillet and the first thing I made was my cornbread.
The great thing about cast iron is that it retains the heat and cooks evenly. You can use it on the stove, oven, grill, or directly on the campfire. If taken care of properly, it will last for generations. In fact, if you find an old cast iron skillet or pot at a yard sale, grab it! They can be restored to their original condition and look like new.
I bought my cast iron skillet at Amazon.com, and you can find many cast iron recipes and instructions for care and maintenance at The Cast Iron Pan Store. In fact, my next purchase will be a cast iron dutch oven. My next recipe to try is Ron's Cincinnati Style Chili, as well as Pam T's Cast Iron Skillet Shortbread.
Okay, I don't know how many of you grew up on Jiffy, but I've always loved Jiffy's baking mixes, especially the corn muffin mix. I'm sure it's just as easy to make from scratch, but cornmeal has never been a regular staple in my house. Mostly because not everyone in my family likes cornbread and I don't make it that often. You do have to be careful of weevils (tiny black bugs) if you keep cornmeal (or flour) for any length of time. Because of that, I have an aversion to buying cornmeal. If you Google it, you'll find some solutions to keep the bugs out of cornmeal, such as placing the cornmeal in a large storage bag and adding bay leaves to the storage bag. When I'm in the mood for cornbread and only a couple of people will be eating it, I'll slice up and freeze several servings in storage bags. These can be heated in microwave or oven for a few minutes.
I digress. Following is my quick and easy way to make cornbread, and it is delicious!
Ingredients:
2 boxes Jiffy Corn Muffin Mix
1 teaspoon baking powder (optional)
2/3 cup milk
2 eggs
1 15 oz. can cream style corn
Pam, vegetable oil or bacon grease
Preheat oven to 400 degrees.
In medium bowl, mix Jiffy mix and baking powder. Add milk, eggs and creamed corn. Mix until well blended (will be a little lumpy).
Spray or grease bottom of 10″ or 12″ skillet. Pour in cornbread mixture. Place on center rack and bake 20-30 minutes, or until golden brown on top and cornbread separates from edge of pan. Use heavy oven mitts when handling cast iron. Even the handles get very hot!
Let stand 10 minutes and flip onto cooling rack (if you can wait that long).
Bon appétit!
Family Rating:

Tell us what you think!
Please leave a comment and let us know if you liked this recipe.
Do you have a favorite cornbread recipe that you'd like to share? If so, please use the comment box below and leave a link that goes directly to your recipe. Also, please add a link back to Susan's Musings.
Thank you!
~~~~~~~~~~



Cast Iron Skillet Cookbook: Recipes for the Best Pan in Your Kitchen
By Sharon Kramis and Julie Kramis Hearne
Order The Jiffy Recipe book or view online – Click Here!
~~~~~~~~~~