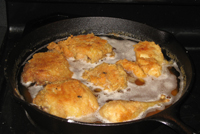 I bought my new 12″ Lodge Cast Iron Skillet and the first thing I made was Cast Iron Skillet Cornbread. The next thing I wanted to make in a cast iron skillet was fried chicken. That's what we had for dinner the other night, and it was delicious!
Ingredients:
6 to 8 pieces or 1 whole chicken, cut-up
2 eggs
2 tablespoons milk
2 cups flour
1 teaspoon salt
1 teaspoon pepper
2 to 4 cups Oil or shortening
Directions:
Wash and pat dry chicken pieces.
In a small bowl, mix eggs and milk. In a bowl or bag (I use a gallon ziplock bag), mix flour, salt and pepper. Add your favorite spices if you'd like.
Season each piece of chicken with salt and pepper. Then, dredge or shake in flour mixture. Repeat with egg mixture and then flour, again. The egg mixture binds the flour to the chicken, and double dipping the flour makes the coating thick and crispy
Add 1/2″ to 1″ of oil or shortening to deep cast iron skillet. You want to leave at least 2″ of space between the oil and the top of the skillet to prevent oil from bubbling up and spilling over. Of course, the more chicken you add to the skillet, the higher the oil will rise.
Heat on medium-high to 350-375 degrees. If you don't have a thermometer, take a wooden spoon and stick the end into the oil. When you see bubbles form around the wood and start to float, your oil is hot enough. Also, the oil is ready when a 1″ cube of bread will brown in 60 seconds. OIL and WATER don't mix, so don't test with drops of water!
Gradually, add chicken to skillet, larger pieces first. If you add too much at once, the oil temperature will drop and the chicken will absorb fat instead of searing. Don't overcrowd the pan. Leave enough space around each piece. You can cook chicken in separate batches. Six pieces fit nicely in my 12″ cast-iron skillet.
Fry until all pieces are browned on both sides. Return all chicken to the skillet, stacking if necessary. Cover and fry on medium-low for 20-25 minutes. Turn several times to brown evenly. Chicken is done when it is a deep golden brown and fork tender.
Serves 6 to 8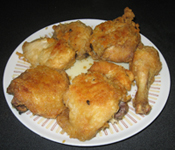 Serve with your favorite sides, and try my Cast Iron Skillet Cornbread. It's delicious!
Bon appétit!
Family Rating:
Tell us what you think!
Please leave a comment and let us know if you liked this recipe.
Do you have a favorite fried chicken recipe that you'd like to share? If so, please use the comment box below and leave a link that goes directly to your recipe. Also, please add a link back to Susan's Musings.
Thank you!
~~~~~~~~~~



Cast Iron Skillet Cookbook: Recipes for the Best Pan in Your Kitchen
By Sharon Kramis and Julie Kramis Hearne
~~~~~~~~~~