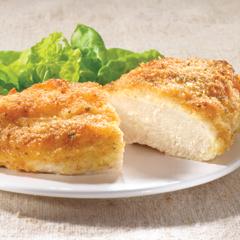 I am always looking for a good chicken recipe. We usually have chicken two or three times a week. I usually end up making family favorites like baked chicken pieces with mashed potatoes and gravy, BBQ chicken with mac & cheese, stir-fry chicken with penne pasta, etc. I can't get too fancy because my family doesn't like when I cook with wine or exotic spices. I got this yummy recipe from my sister, and it will definitely be added to my favorites. I forgot to take my own photo, so this photo and original recipe is from Hellman's, but we changed the measurements a bit and she put a twist on it by adding the chicken gravy. So, you can make this with or without the gravy. Either way, it's absolutely delicious.
Ingredients:
1 15 oz. can chicken gravy (I use Heinz HomeStyle Classic)
4 Boneless chicken breasts (1 per person)
1/2 Cup Mayonnaise (I use Hellman's)
1/2 Cup grated Parmesan cheese
Italian bread crumbs
Directions:
Preheat oven to 350
Pour gravy into a casserole dish large enough to hold the chicken breasts. Lay chicken breasts on top of gravy.
In a small bowl, mix equal amounts of mayonnaise and parmesan cheese together. Spread mixture to cover top of each chicken breast.
Sprinkle generously with Italian bread crumbs.
Bake approx. 30-45 minutes, until it is lightly browned and bubbly.
Serve with vegetable and pasta, potatoes or rice. Serves 4.
Bon appétit
Family Rating:
Tell us what you think!
Please leave a comment and let us know if you liked this recipe.
Do you have a favorite inexpensive and easy recipe that you'd like to share? If so, please use the comment box below and leave a link that goes directly to your recipe. Also, please add a link back to Susan's Musings.
Thank you!
---