Fitz-All Set of 2 Replacement Pot Knobs, Wide – Click Here! – I just bought these pot knobs and now I wonder why it took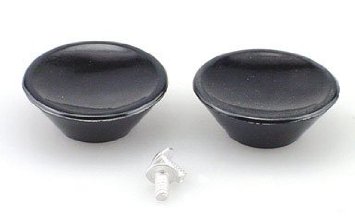 me so long! I melted the handle on my crock pot years ago and it was a pain to grab it in order to lift the lid. I couldn't find a replacement knob for the Rival Crock pot, so everytime I used my crockpot (maybe once or twice a month), I would take a screwdriver and unscrew the knob on my dutch oven and screw it onto my crock pot. At least I was fortunate to have another knob that fit.
One day I was actually looking for something else when I found these on Amazon. One reviewer made a comment about how it fit her crock pot, so I immediately placed it in my Amazon shopping cart.
I'm also an Amazon Prime member, so shipping was free and I received them in two days.
These knobs are great! They even match the rest of my cookware. They are dishwasher safe and heat resistant. The package includes two knobs with large rustproof aluminum screws. I keep one in my kitchen draw as a backup.
This gadget was added to my post, My kitchen gadgets, utensils and bakeware recommendations – Click Here!
Like us on Facebook to receive updates, Kindle Daily Deals, Freebies, household tips, and more!

~~~~~