Well,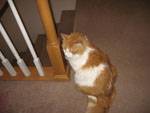 it happened again. This was pretty funny, but I'm sure Ibis didn't think so.
We live in a large townhouse community and the owners take very good care of it. We had some storms come through awhile back (in April) and there was a lot of golf ball size hail damage, mostly to vehicles and window screens.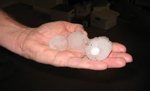 Our car looks like a dimpled golf ball, but at least it matches most of the vehicles in Knoxville. Then, more storms came through, as mentioned in previous Ibis stories, and over a period of time we were in need of some new roofs.
So, this morning, the roofers arrived and began the day with lots of noise while replacing the shingles.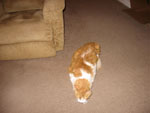 Well, here comes poor Ibis, crouching along and looking for a good place to hide.
He then ran into the nook and hid behind the recliner chair and I figured he would huddle back there for awhile.
Then, later on I went looking for him and couldn't find him. He does that a lot when he's scared. I usually find him in a closet somewhere.
So, I went looking for him again, and this is what I saw. He's so big and fat, I don't know how he manages to get under there.