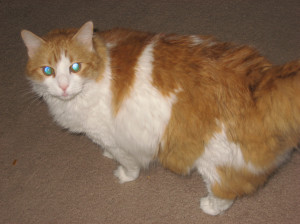 Not too long ago, I discovered something that I had never thought to look for online. That is very strange considering I'm an online shopping addict and would much rather shop online than get dressed, hop in my van and drive around town shopping for things that would normally be right at my fingertips.
But, when it comes to things that I buy at the local grocery store, I never think to buy them online.
Precious Cat Ultra Premium Clumping Cat Litter
I had read a review about Precious Cat litter and that it was one of the top three cat litters, and it could be found on Amazon.com. Since I am an Amazon Prime member and Precious Cat was eligible for 2-day free Prime shipping, I decided to give it a try. How convenient, to have a heavy bag of cat litter delivered right to my front door!
Until now, I had always used Scoop-Away cat litter because I found it to be better than other clumping cat litters I had tried. Plus, I could buy it in the 40-lb bag at Costco. Loading it into my van, on the other hand, was pretty cumbersome without my husband to help.
I never liked cat litters that didn't clump because the cat ended up stepping on urine-soaked litter and then tracked it outside the box. When the clumping cat litter came along I was thrilled to be able to dump the clumped urine along with the waste. Of course, because of this I would constantly be refilling the litter box.
For years, my cat had a problem with clumping cat litter. The problem was, my cat's hair is so long it touches the floor, and his paws are bushy with long tufts of hair between his toes. He also tends to get litter stuck between his toes and tracks it onto the carpet. Also, every once in awhile, he would carry a present from the litter box, which sticks to his butt along with the clumping cat litter. I have to chase him down to clean him off before he decides to sit down and rub it all over the carpet. I wished there was a solution to this problem. Well, now there is!
When it came time to buy more Precious Cat litter, I noticed another type of litter that was made specifically for long-haired cats. It was a bit more expensive than the clumping kind, but it got pretty good reviews. It is called Precious Cat Long-Haired Cat Litter, and comes in an 8-lb. clear plastic jug with a handle.
According to the product description, "Precious Cat Long Haired Cat Litter is made from amorphous silic gel infused with hydrolyzed herbs. Long hair crystals are made into a softer texture that cats prefer. The crystals trap urine and odor on contact and prevent bacterial growth to keep your cat cleaner and healthier."
I like how it is lightweight and pours easily without too much dust. It doesn't clump, so the urine is absorbed into the crystals and stays there, discoloring the litter. It also absorbs the odor. Because it doesn't clump you don't lose the litter when you scoop it, so you don't have to refill it as often. I'm not crazy about the idea of my long-haired cat stepping in urine soaked crystals, but he seems to like it and doesn't track as much as the clumping litter, and doesn't stick between his toes. I sprinkle more fresh litter over the top every week to freshen it up a bit. One jug has lasted two months, about the same as the 18 lb Precious Cat clumping cat litter.
The whole litter box needs to be dumped and replaced with fresh litter at least once a month, probably sooner if you don't like the discoloration. I didn't think to use a liner, but I just ordered a box of Johnny Cat jumbo liners. They have a drawstring which makes it easy to dispose of the litter and avoid having to clean the litter box too often.
Now that it is time to replace the litter box, I will clean it and use the new Johnny Cat liner.
A few months ago, I bought a new litter box and mat from Amazon. They have worked out very well. I placed the litter mat in front of the box and it catches most of litter, then I just shake out the mat over the litter box.

IRIS Open Top Litter Box with Shield and Scoop
This is a great litter box, and very inexpensive. I was afraid my huge cat wouldn't use it, but he took to it right away. He no longer scatters litter everywhere.
The litter mat is called Petlinks Purr-fect Paws Cat Litter Mat. I placed this mat in front of his new litter box and it works out very nicely. It catches most the litter that he tracks outside the box, and I just simply shake it out over the litter box.
---