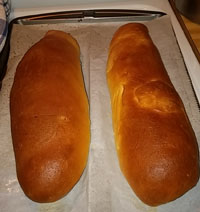 I took my recipe for My Favorite Hamburger and Hot Dog Buns to see if I could also make good hoagie/sub rolls. I was looking for something similar to Subway's white sub rolls, not hard and crusty, but with a softer crust, and light rather than too dense.
So, here's what I did.
Following the same recipe for my bread and bun, using the 3-cups of flour method, I divided the dough in half. I used the first half for five hamburger buns, and the other half for two hoagie rolls. Since I needed hamburger buns, I figured this was a good time to experiment with the sub rolls. If these turned out the way I hoped they would, I will use the 6-cups of flour method next time and make 8 sub rolls. My bread and buns freeze beautifully, so I'm sure these would, too. You can even cut them in half and get twice as many 6-inch sub rolls.
I formed the dough for the sub rolls into two 10-inch long loaves. The end resulted in 11″ sub rolls, so I would suggest making them 12″ long if you want foot-long sub rolls. I baked them for 15 to 20 minutes. Then, as soon as they came out of the oven I brushed the tops of them with melted butter, and covered them with a dish towel, letting them sit to cool for 30 minutes. The steam and the butter is what softens the crust, so this step is very important.
As you can see from the above photos, I need more practice with the shaping. 🙂 The finished product was approximately 11″ long, but if it were shaped a little better, it would be a good 12″ long sub roll.
These came out wonderful! The bread was buttery, light and fluffy, and the crust soft.
I wasn't sure when I'd get a chance to make a sub, so I put the rolls in the freezer. Next morning, all I could think about was trying the sub roll, so I took it out of the freezer to thaw.
I stopped at Kroger's deli and bought some Black Forest Ham, Genoa Salami, and Provolone cheese. I couldn't wait! By lunch time, the bread was thawed, and just as soft and fluffy as when I placed it in the freezer the day before. So, I started gathering all the ingredients for my version of an Italian sub.
Sub Ingredients:
My Delicious Fresh Sub Rolls (recipe below)
Mayonnaise
Black Forest Ham
Genoa Salami
Provolone Cheese
Lettuce
Tomatoes
Onions
Oregano
Red Wine Oil & Vinegar
Salt & Pepper
There you have it. Here are some photos of my masterpiece:
This sub was so delicious, I don't even remember what Subway tastes like! 🙂
Italian Herb and Cheese Sub Rolls
Okay, so the next day I decided to try the Subway recipe for their Italian Herbs and Cheese topping for the sub rolls. I used my recipe for the rolls, and added the herbs and cheese as shown below:
Oh, my goodness! I wish you could smell these. When my husband came home from work he said it smelled like Subway!
These came out a little bit wide, between 3″ and 4″. It really does take practice to get the rolls the right width and length, and not letting it rise for too long. I'd say the second rise should be for 45 minutes to an hour max. I have adjusted the above directions accordingly.
I just made half a sub with the Italian Herbs and Cheese bread. I made seafood salad and placed it on the bread with provolone cheese. I placed it in a 350 degree oven for 5 minutes to toast it a little. Then I added lettuce, tomatoes, onions, mayo and oil & vinegar. OMG! It was so good. I ate it before I could snap a photo. *blush*
Following is a revised recipe for my Fresh Sub Rolls:
Printable recipe without images:
This recipe was originally adapted from Allrecipes' Chef John's Hamburger Buns and Hot Dog Buns recipes, as well as King Arthur Flour's Buttery Hot Dog Buns.
The Italian herbs and cheese topping was adapted from http://www.copycatrecipeguide.com/How_to_Make_Subway_Italian_Herbs_and_Cheese_Bread. They also have the recipe for Subway's bread at http://www.copycatrecipeguide.com/How_to_Make_Subway_Bread
Check out my post, I'm Re-Learning How To Make Bread, for some tips that I picked up while re-learning how to make bread. The information that I came across helped me understand how each ingredient affects bread baking. It is from this research that I developed "My Favorite Hamburger and Hot Dog Buns" Recipe. See post for more detailed instructions and images.
---
---