T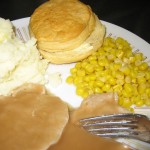 his is one of my family favorites. I usually make them the way my mother did, with Heinz Homestyle Savory Beef gravy. Campbell's Beef Gravy is good, too, or just use your

favorite. These boneless pork loins are so tender you can cut them with a fork. It's simple and delicious!
My Mother's Pork Loin Chops Simmered in Beef Gravy
Ingredients:
8 thin boneless pork loin chops (2 per person)
18 oz. jar of Heinz Homestyle Savory Beef Gravy OR 14-1/2 oz. can of Campbell's Beef Gravy
1 can beef broth or consomme
2 cloves garlic, chopped or minced, or garlic powder
2 tbsp olive oil
Directions:
Heat olive oil in large skillet or pan with lid on medium heat.
Place pork loins in pan and lightly brown on all sides. You can remove and set aside the browned ones while the rest brown.
Then, saute minced or chopped garlic, add beef broth/stock and stir.
Return pork loins to pan. Cover and let simmer until fork tender, turning occasionally, for about 30-40* minutes.
Remove pork loins to plate. Add gravy to pan, sprinkle with garlic powder if needed, stir until hot.
Serve with rice, wide egg noodles, or with mashed potatoes, corn and biscuits.
* If the pork loins are too thick, it could take longer. Sometimes, if I can't find them thin enough, I will split thicker pork loins into two.
Bon appétit!
Family Rating: