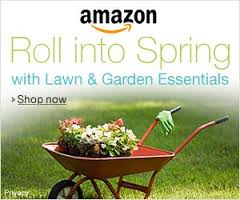 Gee whiz, it's April 7, 2014, and we're still using our heat in the early mornings, and air conditioning by late afternoon. This weather has been crazy! I was beginning to think we would go from Winter to Summer without Spring. What a bummer that would be.
We're finally starting to see signs of Spring. My husband pulled out the lawnmower the other day for the first time this season. Soon after, the neighbors followed. All weekend I listed to the buzzing sounds of Spring. Lawnmowers, weed eaters, and the sound of lawn sprinklers….ahh, such a wonderful sound!
I wonder if any of those potted plants on the back porch will sprout again. Something tells me they won't. I do not have a green thumb, and I'm not sure I'm going to try again this year.
This year, I'm going to try my hand at artificial container plants. I know they can be a little bit pricey, but believe me they are worth it in the long run. I spent hundreds of dollars last Spring and then again in the Fall, and they didn't last long enough. Even my decorative pumpkins from Lowes were turning moldy by the time Halloween arrived.
The following are some of the plants that I found on Amazon. Many of them would be nice in baskets or in containers. I'm sure if you search other stores you'll find more, such as Overstock.com
, Silkflowers.com
, or Walmart.com
.
Nearly Natural 6608 Bougainvillea Hanging Basket Decorative Silk Plant, Beauty
Geranium Silk Hanging Basket by Nearly Natural
Nearly Natural 6610 Morning Glory Hanging Basket Decorative Silk Plant, Purple
Artificial Geranium Hanging Bush by Miles Kimball. Note: Basket sold separately.
TWO Pre-potted 3′ Artificial Cedar Topiary Outdoor Indoor Tree
Petunia Artificial Hanging Bush by Miles Kimball
Silk Azalea Bush by Miles Kimball. Note: Pot sold separately.
Artificial Impatiens Hanging Bush by Miles Kimball
DDI 2378 Silk Ivy and Magnolia Boughs with Feathers in an Oval Metal Planter
Ikea Artificial Potted Plant Allium 13″ Tall 4″ Diameter Lifelike Nature Herb Decoration Fejka
Top Collection Enchanted Story Garden Lover Birds and Nest Functional Flower Pot Outdoor Decor
---