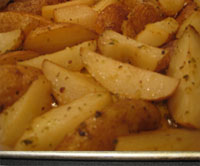 I love potatoes! Doesn't everyone? There are so many different ways to cook potatoes. My youngest loves mashed potatoes, especially when I make them with the "mashed potato machine", which is my stand mixer. They come out so smooth and creamy…Yum!
But, I get tired of having to take out the stand mixer all the time, so sometimes I mash them by hand. I even cheat sometimes and buy the pouches of Idahoan Butter & Herb Mashed Potatoes, they are so good!
Anyway, I digress.
Every once in awhile, depending on what's for dinner, I'll make my oven roasted potatoes. These are especially good when I'm making BBQ chicken or pork chops, or just about anything that doesn't require a sauce or gravy. We prefer mashed potatoes when I make gravy.
Ingredients:
4 medium potatoes, cut into chunks or wedges (I use Russet or Idaho if peeled, or unpeeled red potatoes)
2 Tbsp vegetable oil
1/2 tsp garlic powder
1/2 tsp onion powder
1/2 tsp dried parsley
1/2 tsp dried oregano
1/2 tsp thyme
Basically, whatever spices you want to throw in there.
Directions:
Preheat oven to 400.
Peel and cut potatoes into wedges. I usually cut each potato in half, and then cut 4 to 6 wedges from each half. The larger the chunks, the longer it will take to bake.
In a large bowl, mix oil and spices. Toss cut potatoes in the mixture and lay out on greased baking sheet. Bake for approx. 15 to 20 minutes, until golden brown on outside and tender on the inside.
Serves 4.
Bon Appetit!
I give these 5 stars because they are so good. However, my youngest son doesn't like anything other than french fries or mashed potatoes, so I had to lower the family rating.
Family Rating:

---