I'm going to start a new category, Susan's Amusings.
Yesterday, I came across a link to a product sold on Amazon, and I laughed so hard I almost peed myself. For the next few hours, I browsed Amazon looking at bizarre, funny and unusual products. Some are down right hilarious, some would make great gag gifts, and some may actually work. But, mostly, if you're having a rough day and need a good laugh, take a look at some of these products. Add your comments and tell us what you think!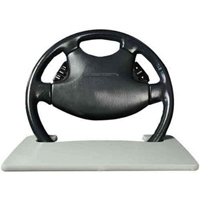 Wheelmate Laptop Steering Wheel Desk
This brings texting while driving to a whole new level. (j/k) This is for when you actually want to pull over for a bite to eat, or to take notes and/or do some work on your laptop.
~~~~~~~~~~
Cover your boo-boo with one of these rough and rugged Skin Art Bandages to trick people into thinking you're tough.
~~~~~~~~~~
A great gag gift for the unicorn collector. Excellent source of sparkles! Unicorns, as we all know, frolic all over the world, pooping rainbows and marshmallows wherever they go. What you don't know is that when unicorns reach the end of their lifespan, they are drawn to County Meath, Ireland. The Sisters at Radiant Farms have dedicated their lives to nursing these elegant creatures through their final days.
~~~~~~~~~~
This would make a great gag gift for the crazy cat lady in your life! We all have one, right?
~~~~~~~~~~
This goes great with the Crazy Cat Lady Action Figure

~~~~~~~~~~
Add your comments and tell us what you think!
See the next 5 Bizarre, Funny and Unusual Products Found on Amazon – Click Here!
~~~~~~~~~~