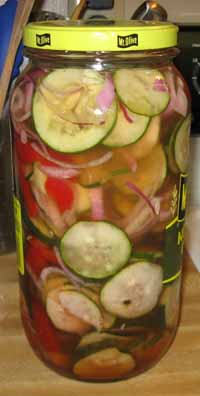 My husband found this recipe from Hillbilly Recipes on Facebook. I changed some of the measurements and came up with the following:
Ingredients:
2 or 3 large or 4 small cucumbers* (peeled, unpeeled or striped) and sliced thin.
1 large sliced red onion, separated into rings
1 red bell pepper, sliced into strips
1 tsp salt
2 cups white vinegar**
2 cups cold water**
1/2-1 cup sugar***
1 tsp celery seed or celery flakes
1 tsp red pepper flakes or cayenne
In large bowl, mix cucumbers, onions, peppers and salt; set aside.
Put vinegar, sugar, celery flakes and pepper flakes in a pot on low heat and stir until sugar dissolves. Remove from heat, add cold water and stir. If using Splenda, do not heat. Just whisk until dissolved.
Place all veggies in large mouth canning jars (2 quarts or 1 half gallon jar)
Pour liquid mixture over veggies to cover. Add additional equal parts vinegar and water if necessary.
Makes 1/2 gallon (64 oz.) Store in refrigerator. The longer it sits in the fridge, the better it tastes! Will keep up to 2 months.
---
There are so many variations of this recipe on the Internet, you can pretty much use whatever you want.
Instead of white vinegar, try apple cider or red wine vinegar.
*Please note that the original recipe from Hillbilly Recipes on Facebook called for 4 cucumbers. I think you only need 2 or 3 large cucumbers, or 4 small ones. I used 4 large cucumbers and had a lot left over.

I first filled an 80 oz. jar, and then I kept the rest in a bowl without the liquid and ate them with vegetable dip – those were very yummy, too!
**This recipe is for two quarts or one-half gallon (64 oz.). If you need more liquid, add equal amounts of vinegar and water to cover. I used an 80 oz. jar (I buy the large jar of Mt. Olive whole pickles), so I added an additional 16 oz. of liquid. So, for an 80 oz. jar I used approx. 3 cups vinegar and 3 cups cold water.
***Use a smaller amount of sugar (or substitute with granuated Splenda), or leave it out entirely. The original recipe called for 1-1/2 cups of suger (yikes!) I used 1 cup of sugar with 6 cups of liquid (for 80 oz. pickle jar) and my husband thought it was too sweet. I loved it! So, start with a 1/2 cup of sugar. It needs to be dissolved first, so if you need to add more suger, pour off some of the liquid from the jar and add to pot with sugar and reheat until dissolved. If using Splenda, do not heat, just stir with whisk until dissolved.
Use green, orange, yellow or red peppers, or leave them out entirely.
Try adding tomatoes, thick-slices, chunks or grape tomatoes.
Photo provided by me 🙂
Bon appétit
Family Rating:
Please come back and comment if you try this recipe!
---