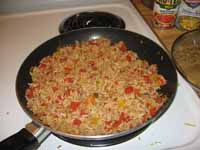 I made this earlier today because I wasn't sure exactly how long it would take to make it. It came out so good I couldn't stop munching on it. I added the cheese later when I reheated it, and it was even better. But if you want to save some calories, it tastes great without the cheese. I served this with beef burritos and enchiladas.
I'm usually terrible when it comes to cooking rice. It always comes out too mushy. This, however, is tender and moist, not mushy.
Serve on the side with burritos, enchiladas, fajitas, or tacos. If you want to make a full dinner out of it, add ground beef or cooked chicken, and corn or baby peas.

Continue reading »