This is not a breast cancer blog, and I don't intend it to be. However, breast cancer was a big part of my life for over a year, and I suppose it will be at least a small part for the rest of my life. I know there are plenty of blogs out there where women keep a daily diary of every single step through their experience. I actually kept one myself, but I kept it to myself, and I stopped sometime during my chemo treatments. I kept it mostly so that I could remember dates and times, and so that I could keep things in order.
This was a bad time for us. My husband was being transferred to Knoxville and our 7-year-old rottweiler, Lulu, started getting sick the day I started my chemo. After a month of treatment and tests we learned that she had liver cancer. We had to put her down.
I have a difficult time writing about my cancer. Even though it was a big deal for me and my family, I felt that it was nothing compared to what others experienced. I really don't know what I could say that would be of any use to anyone. Except thank you to my family and friends for their support through the whole experience. I never would have gotten through it without them. Especially my husband who went with me to every appointment, and to my sister who was always there for me. I hope they know how I feel, I don't need to blog about it.
About a month before my diagnosis, a friend of the family, Vicki, was diagnosed with Stage 0 breast cancer. Stage 0, you ask? Stage 0 is used to describe non-invasive breast cancers, such as DCIS (ductal carcinoma in situ). In stage 0, there is no evidence of cancer cells or non-cancerous abnormal cells breaking out of the part of the breast in which they started, or getting through to or invading neighboring normal tissue. Vicki had three tiny lumps that were non-invasive, but since they were in both breasts she opted for a bilateral mastectomy. I'm not sure what I would have done in that situation, but if it came to that I hope I would be as brave as she was. I learned that she found the lumps during a self-examination.
It was right then that I did my self-exam and felt one tiny pea-size lump in my left breast. It felt like it was just under the skin. I couldn't believe it. I used to be very diligent when it came to self-exams, but I couldn't remember the last time I had checked. I had a mammogram 7 months prior and it was normal. Later on, my surgeon said it had been growing longer than that and the mammo missed it.
This is a book that my friend Vicki's daughter had given to her and she passed it on to me. It's full of short stories and anecdotes about women with breast cancer. I would read it during my chemo treatments and it always made me smile. This would make a nice gift for someone you know that has breast cancer.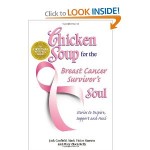 Chicken Soup for the Breast Cancer Survivor's Soul: Stories to Inspire, Support and Heal (Chicken Soup for the Soul) [Paperback]
I wasn't going to get into this, but I changed my mind. This information may be helpful to others who would like to better understand their diagnosis.
Prior to my surgery, my doctor referred me to the radiation oncologist for a consultation regarding radiation treatment. He was hoping that I would be able to receive the Mammosite 5-day targeted radiation therapy. This is where they insert a balloon into the area where the lump was removed at the time of surgery. Later on, a seed is placed inside the balloon and radiation is given to just that spot where the tumor was. This is only available if the cancer is not invasive and hasn't spread to the lymph nodes. Unfortunately, I was not a candidate for this radiation therapy.
On June 9, 2009, my surgeon performed a lumpectomy of the left breast with axillary lymph node dissection (removal of lymph nodes). After receiving the pathology report, my final diagnosis was IDC, 1.6cm, Stage 2, 1/14 nodes, ER+, PR+, HER2-. This means Invasive Ductal Carcinoma, tumor size 1.6 centimeters (about 1/2″), Stage 2 (Cancer stages are 0 to 5), cancer was found in one out of a cluster of 14 lymph nodes that were removed during surgery. It was found in the sentinel (first) node. This is good because it means it didn't go any further than the first lymph node. It was because of the cancerous lymph node that I was staged at Stage 2.
ER+, PR+, HER2- means Estrogen Receptors/Progesterone Receptors positive, human epidermal growth factor receptor 2 negative. Of all of the possible combinations, this is the best diagnosis. In ER+/PR+, Her2–, chemotherapy conferred significant overall and disease-free survival advantages. Because of the ER+/PR+, I take Arimidex (aromatase inhibitor anastrazole) in which studies show overall that patients with ER+/PR+ tumors had a lower recurrence rate than those with ER+/PR– tumors.
In layman's terms (at least the way that I understand it), this diagnosis is common in post-menopausal women. Arimidex and Tomoxifen work by lowering estrogen hormone levels to help shrink tumors and slow their growth. In my case, I take Arimidex to help prevent the cancer from coming back. I will probably take it for the rest of my life.
My oncologist ordered Oncotype DX, which is where the pathologist examines the frozen tumor removed during surgery. Dr. Belette says if my Oncotype score comes within the low range (1-18), I will not need chemotherapy. Crossing fingers. Well, Oncotype DX came in at 19. To be on the safe side, we all decided on chemotherapy.
After going through the diagnostic stage, then the surgery, and finding out that I was going to keep my breast, and I wasn't going to die, I thanked God and couldn't believe how lucky I was. We decided that I would have chemotherapy and radiation to aid in preventing the cancer from coming back.
Then it hit me; you could have knocked me over with a feather. That word…Chemo! After going through all of that, what surprised me most was that I was struck by the horrible sin of vanity. That's right, I was going to lose my hair! I've always had long hair. Long blond hair. Well, it eventually turned to brown but I kept it blond for many years after. My hair was my self, I could not be me without my hair. How vain is that? I had always said about others with cancer, that if it came to that, so what! It's only hair, it will grow back! Hell, I would have them take both breasts if they had to. It's a small price to pay for staying alive. But even so, the thought of losing my hair, of being completely bald, horrified me!
Well, the thought of my hair falling out in big clumps was even more horrifying. So, what I did first, was go to the salon with my sister and get a short hair cut, similar to hers. I had let it grow out some before my haircut and most of the blond was cut off. It was practically all gray and afterward I decided to keep the gray since I didn't want to color it while getting the chemo. Getting three or four toxic infusions every three weeks was more than enough.
Secondly, one thing that I had already planned to do was have a hair shaving party.

I was going to have my sister and friends come over, drink some wine, and shave it all off. That never happened because I found out that I probably wouldn't lose all of my hair with the light chemo treatments I would be getting.
One forum that I thought was so helpful was BreastCancer.org. They have forums for every type of breast cancer, and it was great having someone to talk to that was going through the same thing I was.
One suggestion that I picked up from other girls who lost their hair was to go to a professional wig stylist before you start losing your hair. Once you start losing your hair, you will be too depressed to get it done.
After the second chemo treatment I started having a few side affects, but nothing serious. I was shedding a lot,

especially when I washed my hair. Strands of hair would come out in my hand, but it wasn't noticeable to anyone else. Well, they noticed the shedding if I was wearing dark clothing, but my hair looked okay.
My hair was growing in with a rough texture and I was still losing a lot of it, mostly shedding everywhere and when I washed it. I was picking up so much hair between mine and my cat's, it was ridiculous. I couldn't wait 'til all of this was overwith so my hair would stop falling out and I could color my hair again. After 18 weeks of chemo, I still had 6 weeks of radiation to go through. I had read all kinds of stories about how some people with straight hair have curly hair after, some with dark hair end up with light hair, and colors and textures change.
We had to wait until my treatment was over before we could move. I didn't want to change doctors or interrupt my radiation treatments, so we waited. My radiation ended 1/21/10 and we moved 3/6/10.
So, after all the chemo and radiation treatments were over, after moving to Knoxville and settling in,
and after finally feeling like I was getting my life back, a funny thing happened. My hair started feeling soft again, and there were white highlights mixed with the gray. It was a pretty color gray, not drab like I thought it was before. It almost looked light brown with blond highlights. No more hair color for me. Hurray!
Compared to those who don't fair too well with cancer, either by losing their breasts or even their lives, I'm sure they would give anything to have losing their hair be the worst thing they had to worry about. I still think that after everything many of us went through, we're entitled to feel sad about losing our hair and grateful for living through it, all at the same time.
As of June 9th, 2011, I am two years cancer free! I thank God every day that I was fortunate, and I pray that it doesn't come back. I have a mammogram and MRI once a year, and I take pills every day. I also get a Zometa infusion twice a year. So, I don't think of my cancer every day, but these things are constant reminders that I have to be diligent and take care of myself. More importantly, do those self-exams!
An old friend of mine, Tina, lost her life to lung cancer on March 14, 2011, she was 57. She was only two years younger than me. I now live in Tennessee and her family lives in central Florida. My family and my best friend live in south Florida, so my friend and I hooked up and were able to visit Tina the week after Christmas, when she was still feeling up to having visitors. We stayed up all night and talked about old times and had a lot of laughs. We tried on wigs and took pictures. She had this one turban with velcro bangs that she wore most of the time. She had always been attractive, and she was still beautiful. I hadn't seen her in years but my heart was breaking and I couldn't stop crying for months after hearing about her diagnosis. I guess I thought she would live forever. I will never be able to make up for all of that lost time, but I'm thankful that I got to see her one more time.
When you know or meet someone that has cancer, don't shy away from them. They're living it and they don't mind talking about it, and they don't want your pity. They want your friendship and they like being treated like they've always been treated.
Give someone a hug today!

---
Music video by Martina McBride performing I'm Gonna Love You Through It. (C) 2011 Universal Republic Nashville Records.
---
Here are a few sites that I found to be very informative and supportive.
The American Cancer Society – Information and Resources for Cancer: Breast, Colon, Prostate, Lung and Other Forms.
BreastCancer.org – This forum helped me in so many ways. I was able to discuss my situation with other women who were going through the same thing as I was.
BRCA1 and BRCA2: Cancer Risk and Genetic Testing – I went through this testing because my first cousin on my mother's side died from breast cancer. Later on, her three children tested positive for the BRCA1 gene. I tested negative. Ask your doctor about BRCA1 and BRCA2.
CancerCare – Free, professional support for anyone affected by cancer.
Inspire.com – "This is the most fantastic site. So emotionally supportive and informative. It's like having an extended family that you can just pour your heart out to."
L. Erickson USA – Free Headwrap or Scarf from L. Erickson USA – To receive a complimentary scarf or headwrap due to chemotherapy and hair loss, contact goodwishes@franceluxe.com for more information, or call 888.884.3653.
Mammosite.com – Learn about MammoSite 5-Day Targeted Radiation Therapy. I consulted with the radiation oncologist and planned to have this treatment. Unfortunately, because of lymph node involvement I was not a good candidate and went on to receive the 35-day radiation treatments.
Oncotype DX – The Oncotype DX Breast Cancer Assay and the Oncotype DX Colon Cancer Assay are unique diagnostic tests that can help patients and their doctors make informed, individualized treatment decisions. Ask you doctor about Oncotype DX.
---